Fish Directory
Thoothoor fishermen are trained and experienced in all kind of sea fish sailing. Their performance on shark fishing is nationally rated as top in India. People from this village visit almost all ports in India for sailing purpose. Below are few fish types which Thoothoor fishermen often deals * with.

Fish Collections (Click on the name for details)



SEER FISH 4:




* The sailing of fish only as per law.
For Business Enquiries
There are many fish merchants involved in all kind of fish related businesses around Thoothoor region. They can manage any kind of national and international dealings too. If you are interested, please write to us [Contact Us], we will assist you accordingly. We will try to list out few such merchants in this page soon.


What is New in Thoothoor.COM?

St.Thomas Community Hall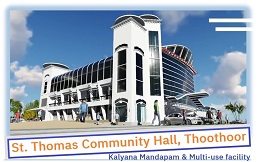 Parishes in Thoothoor Forane




Our Location Map