Poll Listing
This page contains the list of Polls published in this website and the link to its details.

List of Polls

Wish to propose a poll ?
Thoothoor.com provides the opportunity for our visitors and well wishers to propose useful Poll in the website. If you have an idea for an usefull Poll in the webiste, please contact us with the details.

Poll proposals can be sent to:


What is New in Thoothoor.COM?

St.Thomas Community Hall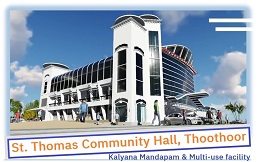 Parishes in Thoothoor Forane




Our Location Map