Thoothoor Federated Football Academy (TFFA)
---
Thoothoor Federated Football Academy (TFFA) is a nonprofit organization founded by senior footballers and likely minded people from our region during the year 2017. It is a first registered academy in our region.The word FEDERATED consist of the villages of Thoothoor Forane, i.e. Erayumenthurai, Poothurai , Thoothoor , Chinnathurai , E.P Thurai , Vallavilai , Marthandanthurai and Neerodi. TFFA has given a road map to include players from other coastal villages from Kanyakumari district in near future based on TFFA's growth , capacity and forthcoming requirements. The academy office is located in front of St.Judes College thoothoor.

The role of specialization of TFFA is to promote football talent into our youngsters from our region. As a step towards this vision, TFFA has come up with a plan to identify age wise raw talents from our region in early stage and provide formal training to bring the best out of them.

TFFA's first football trial has conducted on 17th , 23rd and 24th Sept 2017 at Thoothoor St. Jude's College ground and A total of 57 (27 U-16 and 30 U-14) players from all the parishes short listed by TFFA officials . The players are attending training sessions camp which was commenced on Sep 27 '2017.

TFFA Executives :

President : Mr. Sagar V
Vice President : Mr. Raegan Albernas
Technical Director : Mr. Johnpaul
Coordinator : Mr. Anto
Development Officer : Mr. Maria Jin


TFFA invite all senior footballer and likely minded people to come forward to work with us in the trainers / advisory panel for the betterment of our youngster and society. Please use any of the below option to communicate with TFFA Executives.

Email: tffa.kanyakumari@gmail.com
Contact No: +91-9488705027 / 9605763389 / 7904694258
Address : TFFA , 1st Floor, Shopping complex, Opp. St.Jude's College, K.R Puram, Thoothoor,KK District, Tamil Nadu , India , Pin -629176.

TFFA related reports/references
Core Publications
Few Delegate Message References


What is New in Thoothoor.COM?

St.Thomas Community Hall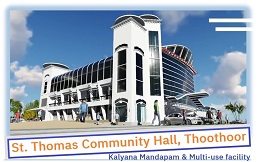 Parishes in Thoothoor Forane




Our Location Map