Password Retrieval Page
Members can use this facility to retieve their forgotten password. This facility works as below.
User should provide the email-id as in the profile.
If email-id matches, then the password will be sent to the email address immediately.
If email-id does not match, then you will be given an 'Email-id Hint' to guess the correct profile email-id.
Without the email-id, immediate password recovary is not possible (More info below).

Password Retrival With Email-id

Password Retrival if the User also forgotten the Email-id
If you have also forgotten the email-id as in your profile or lost access to that email-id, then please use the 'Forgot Email-Id' link above to contact the administrator for recovering accees to your account. Describe the complete details of your problem while contacting us. We will manually verify your request and will send the password as applicable.

Thank you all . . . for your suggestions on the "what-next" evolution of the website!

WaTCH THiS SPaCe!


What is New in Thoothoor.COM?
Thoothoor Parish page is updated !

ENLARGE GO


St.Thomas Community Hall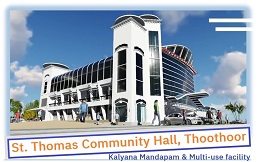 Parishes in Thoothoor Forane

Our Location Map