Contact Us
Please use this page to contact us for anything. Make sure to select the appropiate 'Purpose of Contact' while contacting us.

* You can also contact the Administrator using the Email Id:

Contact Us Form

Thank you all . . . for your suggestions on the "what-next" evolution of the website!

WaTCH THiS SPaCe!


What is New in Thoothoor.COM?
Thoothoor Parish page is updated !

ENLARGE GO


St.Thomas Community Hall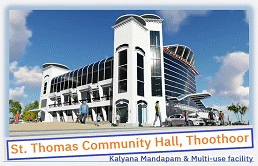 Parishes in Thoothoor Forane

Our Location Map