Facilities and Services in Thoothoor
Though Thoothoor is a coastal village, it has attained unbelievable growth in all aspects. Thoothoor is known as a traditional village with all advance facilities and services. The education opportunity in Thoothoor is extremely high and of good standard. Also there are many public and private services available here. Such Common services and facilities provide an unique identity to Thoothoor in this region.

* Please inform us for any additions to this page, which will be taken care.

Spiritual Facilities
St. Thomas Ferona Church

All people who live within the boundary of Thoothoor village owe allegiance to this Church. The Church and the Church authorities (Parish Pastoral Council - Comity) intervenes and dominates in the socio-economic life of the people. Parish Pastoral Council members are selected/elected members by the people of Thoothoor to manage the Parish. Thus this Catholic Church plays a conspicuous role in the day-to-day life of the fishermen of Thoothoor village.

Initially in 1600, the Thoothoor Parish Church was brought under the Padroado (Padroado was the right of spiritual jurisdiction granted by the Pope to the King of Portugal). Subsequently this Parish came under the Diocese of Cochin, Diocese of Varapuzha(1838), again Diocese of Cochin(1850) and finally Diocese of Thiruvananthapuram (1952).



The Shrines - KURUSADI's

Thoothoor Parish includes many shrines within the boundary of Thoothoor in the name of Saints and Mother Mary. These Shrines doesn't have independent administration, rather it is connected with the Parish and completely managed by the Parish council. The participation of the youth during the annual festival in all Shrines are appreciable. The shrines in Thoothoor are St. Antony Shrine, Vailakanni Matha Shrine, St. Agathammal Shrine and Christ the King Shrine.

Other Spiritual Facilities
St. John's Convent

Saint John's Convent in Thoothoor is a provincial of 'Community of St. John Baptist' founded and headquartered in Germany. The main focus of this congregation is spiritual and poverty services. The sisters in the convent takes care of catechism classes, prayers, and other spiritual events in the Church. They also involve in social/poverty services.

Government & Private Organizations
Primary Health Centre

The Primary Health Centre in Thoothoor is responsible for the execution of all government health-care services in this region. This was the only medical service center in this region for a long period at least since early 80s until the establishment of other private hospitals. At present this center is a leading center in the district level in many of the health services. Many people in and around Thoothoor area, especially the poor people, highly depend on this primary health centre for their medical needs.



Head Post Office

This is a Head post office, provides all government postal services to the people. Many people, especially women, benefit from the small scale financial schemes offered by this post office.



State Bank of Travancore

State Bank of Travancore in Thoothoor is the first bank in this area. This bank's contribution in the financial growth of people in Thoothoor in early days was notable. This bank provides all usual banking services.



Indian Bank

Indian Bank Thoothoor branch is located in St. Thomas Tower building near Thoothoor bus stand. Now many people use this bank for their financial need. This bank is innagurated on Jan 2010 by Dr. Jeppiaar and M.S.Sundara Rajan (Indian Bank Chairman & MD).




Educational Institutions
St. Jude's College

You will never find a fishermen village in the world like Thoothoor. For a question, "How Thoothoor is this much successful?", anybody will proudly point to this College. A group of catholic priests started this College in 80s with a vision ahead. The effort taken by them is not wasted and the current shape of Thoothoor is a standing testimony for this. This College is managed by the same group of priests/trust. A women hostel is attached with this College, which is run by catholic nuns.



Pius XI H.S.S

Pius XI H.S.S is a good performing higher secondary school, offers education from 6th standard upto 12th standard in English, Tamil and Malayalam medium. The school has previous records of State ranks in board examinations. The school has won state and central level awards in sports activities too. People from up to 10 KM prefer this school for their SSLC and HSC education. This school is owned and managed by Thoothoor and Chinnathurai parishes.



Pius XI Primary School

Pius XI Primary School offers education from 1st standard till 5th standard. This school is managed by the sisters of St. Anne's convent, Chinnathurai and it is primarily owned by Thoothoor and Chinnathurai parishes.



Govt. Primary School

This school is run by the government and situated in the upper portion of Thoothoor.



Nursery Schools

There are few nursery schools in and around Thoothoor. These schools offeres play home, nursery, LKG and UKG classes for kids.



Institutions in neighbor villages

There are many institutions functioning in the neighbor villages of Thoothoor. Few of them are (i) St.Jude's English Medium School-Chinnathurai, (ii) St.Joseph Middle School-E.P.Thurai, (iii) Convent school-Poothurai (iv) Govt primary school-Erayumenthurai, etc.





What is New in Thoothoor.COM?

St.Thomas Community Hall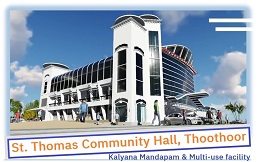 Parishes in Thoothoor Forane


Our Location Map