Thoothoor Forane Catholic Youth Movement (TFCYM)
TFCYM is a youth movement comprises youth belongs to Thoothoor. This movement takes up many works in Thoothoor. Members of TFCYM involve in many good activities for the benefit of the society and youth. Some of their major activities are:
The Green Thoothoor project - Planting & maintaining trees in and around Thoothoor.
The Clean Thoothoor project - Cleaning and maintaining un-cared areas in Thoothoor to keep the environment healthy.
Conducting grant cultural events.
Celebrating common festivals and occasions in a grant manner
Supporting other organizations in conducting social/renovation activities.
During 2007-2008 time period, TFCYM has published a monthly magazine 'Sigarangalai Thoduvom', and an e-copy of the same was also published in thoothoor.com website durign that time.

TFCYM related reports/references
Core Publications
Few Delegate Message References


What is New in Thoothoor.COM?

St.Thomas Community Hall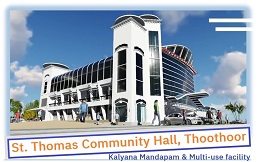 Parishes in Thoothoor Forane




Our Location Map