Delegate Message
TFCYM cleaned Community Hall bridge and School bridge

Back

-


Added @ 1-4-2015:13.20.42(IST)

The Community Hall bridge and School bridge are the two high demand bridges in Thoothoor. But these bridges were dumped with garbage by surrounding houses. This makes these bridges unhygienic and dirty, and anyone who use the bridge had tough time crossing it. Now TFCYM has cleaned these bridges with the help of a hired JCB during the week 23rd March 2015. People appreciated TFCYM's timely effort as these bridges comes in the path of Way of Cross. TFCYM also has taken initiate by talking to Thoothoor Village Panchayat and Ezhudesam Town Panchayat for permanent solutions to this problem. TFCYM also requests the nearby houses to find alternate for dumping garbage and help to keep these bridges clean. Some photos of the cleaning activity are attached below.

URL-1: http://www.thoothoor.com/v5/ViewAlbum.asp?album=tfcym-bridgeclean .....

| | | |
| --- | --- | --- |
| Rate this message! | | |

Comment/Feedback on this Delegate Message

[4-4-2015:14.42.3(IST)]
Good effort..... keep knocking the Panchayat members too till get a permanent solution. As of I know, the panchayat providing assistance to this like projects.

[1-4-2015:14.15.17(IST)]
Its a fantastic work done by TFCYM. The benefit of such kind work is wide range of society people and i would request people to come forward to appreciate such a wonderful initiative.

[1-4-2015:14.7.15(IST)]
Good work guys keep it up


St.Thomas Community Hall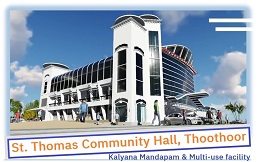 Parishes in Thoothoor Forane



Our Location Map