UNTOLD STORY OF THOOTHOOR ZONE FOOTBALLERS - Part 2
-


Added @ 29-06-2021@00.30.31(IST)




Last Updated @ 29-06-2021@14.16.42(IST)
The Football News Tamil youtube channel has released part-2 of their earlier short documentary about football players from Thoothoor zone. Details about the list of senior footballers, the missed names in the part-1 video, women footballers, i-League players are covered in this part-2. Players from Erayumanthurai to Neerodi covered in this! Link below...

URL-1: https://www.youtube.com/watch?v=ViD1UGLi9ew
| | |
| --- | --- |
| Rate this message! | | |
Thoothoor grieves for the loss of its lifetime achievement awardee, Canty teacher
-


Added @ 26-06-2021@13.46.51(IST)
Canty teacher passed away in the morning hours on 26-06-2021. 81 years old Canty teacher was under treatment for the post covid complications in a private hospital where she died seconds after receiving the Eucharist.

Canty teacher is an unparalleled prominent icon of Thoothoor. Her social contributions include 60 years of service in Catechism, many decades of service in preparing children for the First Holy Communion, decades of service in feeding the poor via various religious groups, helping the priests and the diocese in all their social initiates, helping the poor by arranging funds from various contributors, and many more truly this list has no end. Family members remember her to be a person who thinks 'Church is her Parallel Home'.

Recognising her tall contributions, Thoothoor parish honoured her with the 'Lifetime Achievement Award of Thoothoor' in December-2020 during the Art and Cultural Festival in Thoothoor. Canty teacher is mother of Mr. Stanley Paul (Aji) and wife of Late. Mr. Poulose.

The funeral mass will be held at 4 PM on Sunday 27-06-2021 at St. Thomas Forane Church, Thoothoor.

Satellite Phone Surrender Protest by Thoothoor region fishermen
-


Added @ 21-06-2021@23.30.02(IST)
As decided earlier, Thoothoor region fishermen demonstrated a protest in front of the fisheries office today 21st June to oppose the huge hike in the annual tariff and late fee. Many fishermen participated in the protest and surrendered their satellite phones there. A TV report about this below...


| | |
| --- | --- |
| Rate this message! | | |
Thoothoor region fishermen to return the Satellite phones to the Govt in protest of tariff hike
-


Added @ 11-06-2021@11.10.54(IST)
Since 2019, our deep-sea fishermen have been using Satellite phones which was a scheme by Tamilnadu State Disaster Management Authority. Though the operation cost for these phones was high, deep-sea boats used them as these Satellite phones were more helpful for communication at the time of natural calamity and other emergencies. Now the government has increased the annual tariff from Rs. 14,172 to Rs. 42,492 all of a sudden, and on top of it there is a call cost of Rs 18/- per minute. This becomes a huge burden to the fishermen at the time of many other sufferings due to cyclones and the pandemic. Hence, Thoothoor region fishermen have decided to return the Satellite phones to the Government in protest of this huge tariff hike unless the tariff hike is withdrawn in due time. A News7 Tamil TV report below...


| | |
| --- | --- |
| Rate this message! | | |
TN Govt released guidelines to correct the wrong electricity bills
-


Added @ 28-05-2021@14.27.14(IST)
Tamilnadu electricity board has sent electricity bills to all consumers this week in our region. Many people complained that a huge bill amount has been marked in most of these bills. In Thoothoor, most of the bill amount came were 2 times, 3 times, 5 times higher than the actual. In one case, a bill amount of Rs 11,000 sent for a house that is mostly locked for two months. People are shocked to see this and are struggling to resolve this. Though the government has given guidelines to refer the consumption units either from the previous month's bill (March-2021) or previous year's bill (May-2020) to calculate the amount, the issued bills have totally different consumption units mentioned and huge bill amount.

The situation is the same all over Tamilnadu. Hence, the TN government has issued a new guideline to EB to accept the self-evaluation of meter reading. For this, people are asked to send the meter reading to the AE of their region, and after this, a new corrected bill will be issued. The email-id of Namboly AE is given below. We have confirmed and verified that THIS OPTION WORKED TOO!. So, if somebody is facing this problem, please do send the current meter reading along with the supporting photo to the below-mentioned Namboly AE's email-id and get your bill corrected.

Email-1: (Note: Email-id display here is protected from web crawl programs)
URL-1: https://www.dtnext.in/News/City/2021/05/21034946/1295669/Tangedco .....
| | |
| --- | --- |
| Rate this message! | | |
24 fishermen including 2 from Thoothoor under arrest in Qatar face a huge fine by the Court
-


Added @ 26-05-2021@22.27.42(IST)
On March 25, Qatar Law Enforcement had arrested 24 Indian fishermen along with 4 Iranian fishermen on charges of entering Qatari waters and are imprisoned them since then. These fishermen were employed in Iran for the job of fishing in the sea.

According to Justin Antony of INFIDET, "The 24 Indian fishermen along with four Iranian fishermen ventured for fishing in two boats from Iran on March 22. The first boat – Asin -- had 10 Indians and two Iranian nationals while the other boat – Yakub -- had 14 Indians and two Iranian nationals,". The ten Indians on board Asin were produced before a Qatar court on April 19, and a fine of 50,000 Qatar riyal (Rs 10 lakh) was slapped on the boat. Memorandum has been submitted to the Indian government to rescue these poor fishermen who cannot afford this huge fine.

Those under arrest include Justin and Lawrence of Thoothoor, 6 from Enayam, 2 Kodimunai, 1 from Vilavancode, 2 from Midalam, 1 from Mel Midalam, 1 from Mulloorthurai, 1 from Chinnathurai, 1 from Karungal, 1 from Ramanthurai, 2 from Kurumpanai, 2 from Thiruvananthapuram, 2 from Kollam. Read more at the below link.

URL-1: https://timesofindia.indiatimes.com/city/chennai/pm-modi-urged-to .....
| | |
| --- | --- |
| Rate this message! | | |
ARTICLE: Shocking incidents of Collisions in The High Seas
-


Added @ 22-05-2021@17.07.34(IST)
Dr. Sajeen Arulees from Thoothoor is the author of the article titled 'Shocking incidents of Collisions in The High Seas'. Dr. Sajeen brings this article in light of many recent incidents in which deep-sea fishing boats hit by giant ships causing fatal damage to life and livelihood.

Dr. Sajeen retired as an Assistant Professor, PG and Research Department of History, Government Arts College, Kumbakonam, Tamilnadu, India.

URL-1: https://www.thoothoor.com/v5/articles_view.asp?artnum=ART9870
| | |
| --- | --- |
| Rate this message! | | |
Heavy wind and rain across Coastal Kanyakumari leaves severe damages
-


Added @ 15-05-2021@13.40.20(IST)
Due to the effect of the low-pressure area along the Arabian sea, coastal Kanyakumari including Thoothoor region is experiencing heavy wind and rain for 3 days. The wind and raining were very hard yesterday Friday, in which around 7 houses along the beach in Thoothoor got severely damaged. The electricity supply was disconnected as many electric poles were fell down due to the heavy wind in addition to cell phone connectivity problem. Today, electricity is restored partially. But the raining and cloudy weather continues. Meanwhile, the Central Water Commission has also issued an 'orange bulletin' for Kerala and Tamil Nadu, saying severe flood is expected due to the cyclonic storm.

As already announced by India Meteorological Department (IMD), this low-pressure is getting closer to become a cyclonic storm which will be named Cyclone Tauktae. Information about the cyclone has been passed to almost all deep-sea venturing boats and they are all moving to safe points away from the cyclone path. As of 15-05-2021 today morning, 12 Thoothoor boats are still not in contact, the remaining boats are all in contact and they are moving to safe points.

| | |
| --- | --- |
| Rate this message! | | |
2021's first Cyclone, 'Cyclone Tauktae' is coming as a danger if it intensifies
-


Added @ 12-05-2021@22.31.47(IST)
India Meteorological Department (IMD) has said that a low-pressure area was very likely to form over the southeast Arabian Sea on 14th May. According to IMD, this will move towards the Lakshadweep area and intensify gradually to become a Cyclone unless it weakens before it.

According to fishermen activists, our deep-sea fishermen are mostly camping in this sea area and are busy in fish catchings before the start of the ban period. Hence proper efforts are needed to alert and instruct them to move towards safe locations depending on the way of the Cyclone. The government and Coast guard are making efforts to communicate the message to deep-sea boats.

URL-1: https://timesofindia.indiatimes.com/india/cyclone-may-hit-west-co .....
| | |
| --- | --- |
| Rate this message! | | |
Mr. Joseph Ouseph promoted as Assistant Commandant in BSF
-


Added @ 07-05-2021@12.01.19(IST)
Mr. Joseph Ouseph from Eraviputhenthurai has been promoted to AC - Assistant Commandant in the Border Security Force. AC rank in Central Armed Police Forces is equivalent to ACP or DSP in Police rank and equivalent to Lieutenant in Army rank.

Assistant Commandants in Central Armed Police Forces (CAPF) are directly appointed through the Union Public Service Commission (UPSC), which Mr. Joseph Ouseph achieved through his hard work in BSF. When Joseph Ouseph joined BSF in early 2000 as a footballer, he helped BSF winning few prestigious soccer leagues and thus gained good attention at that young age itself. His journey in BSF from a football player to Assistant Commandant is a motivation for youths from our locality. Let us congratulate him on this accomplishment.

NLT's Covid Awareness Drive
-


Added @ 01-05-2021@13.29.57(IST)
Netaji Library in Thoothoor conducted an awareness drive on 1st May 2021 in front of the NLT building. Executives and staff of NLT approached people who were roaming without masks and spread the message of the importance of social discipline during this pandemic. They have also distributed masks to such people to let them realise the importance of wearing masks and start practicing such Covid guidelines.


| | |
| --- | --- |
| Rate this message! | | |
All 11 Vallavilai Fishermen Safe! Returning Home
-


Added @ 28-04-2021@10.22.00(IST)




Last Updated @ 28-04-2021@20.58.08(IST)
The day 28th April begins with one good news for every one of us that all the 11 Vallavilai fishermen are safe. According to the information received, the ship hit the Mercedes boat in which the steering room (Wheel-House) and a minor top part of the boat alone was damaged. All 11 fishermen jumped into the sea and later boarded the floating boat. They could not send messages to other boats as the wireless devices were lost. Luckily one of the country boats attached to the boat was not damaged which had a GPS and using that GPS they moved towards the Indian shore. As soon as they reached Lakshadeep mobile network on their way, they informed about their safety to their relatives. Now all 11 fishermen are returning to Indian shore on their Mercedes boat also with one country boat.

It was also notable that the search operation by the government and the fellow fishermen were excellent this time. But since the victims moved away from the location on their boat, they could not be found by the rescue team. Let us Thank God!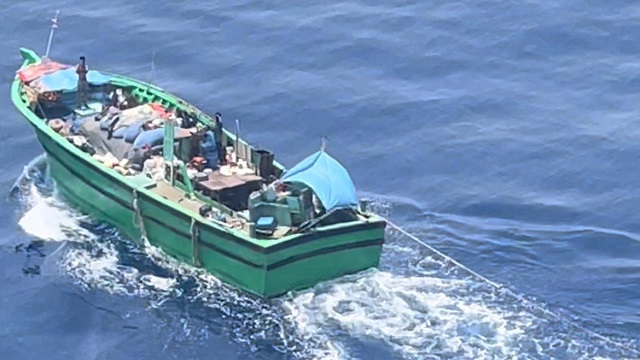 | | |
| --- | --- |
| Rate this message! | | |
A Vallavilai boat found sunk off Karnataka sea and all 11 fishermen missing; Hit by ship suspected
-


Added @ 25-04-2021@14.50.38(IST)




Last Updated @ 26-04-2021@19.06.41(IST)
A boat from Vallavilai named 'Mercedes' went fishing from Thengapattinam harbor on 9th April along with 11 fishermen from Vallavilai. They were in wireless contact with other boats until 23rd April. On 24th noon, another boat in the same sea area found broken parts of the Mercedes boat and suspected something wrong. Immediately they informed other boats and started the search operation. In the further search operation, more and more broken pieces of this boat and broken pieces of one of the country boats that was attached to this Mercedes boat were found but none of the missing fishermen were traced. People suspect this could be another ship hit accident. Tho whole of Thoothoor region particularly the Vallavilai village is being more tensed due to this tragedy. The one hope left is that one more country boat that was attached to this boat is also missing along with these fishermen. So people are hoping that the missing fishermen may have boarded this missing country boat with an expectation that some rescuers will reach them.

[UPDATE: 26th APRIL @ 7 PM] Helicopter, coastguard ship, 11 boats, and 20+ country boats are involved in the search operation since 24th April. According to sources, there are no improvements in the search operation until 26th April noon. People are losing hope as time passes by.


| | |
| --- | --- |
| Rate this message! | | |
Special Saturday Evening Masses were offered at Thoothoor due to Sunday curfew
-


Added @ 25-04-2021@14.50.13(IST)
| | |
| --- | --- |
| | Tamilnadu government has announced more restrictions to tackle the covid-19 surge in the state. Thus, complete lockdown is imposed on Sunday. In view of this, special Masses were offered at St. Thomas Forane Church, Thoothoor on Saturday, 24th April evening at 6 PM and 7 PM. People were instructed to attend these masses by strictly following social distancing and wearing a mask. |
| | |
| --- | --- |
| Rate this message! | | |
3 fishermen including 2 from Colachel died in the Mangaluru Boat Accident; 9 missing!
-


Added @ 15-04-2021@23.37.13(IST)
A ship collides with a fishing boat off Mangaluru coastal in which the boat sunk putting the life of the 14 crew members at risk. In the immediate rescue operation held, only 2 were rescued alive. Out of the remaining 12, 9 fishermen are still missing while the search operation continues, and 3 bodies were recovered.

Out of the 3 bodies recovered, two of them were Alexander (34) and his father-in-law Dhason (67) both from Colachel, and the third deceased fisherman has been identified as Manickdhas of West Bengal. The 9 missing fishermen include three from Ramnad, one from Thoothukudi, and the rest belonging to West Bengal. The 2 rescued fishermen were from Ramanathapuram and West Bengal. Read more...


| | |
| --- | --- |
| Rate this message! | | |
NLT's 29th One Day Football Tournament Lucky draw Winners
-


Added @ 11-04-2021@12.08.53(IST)
The winners of NLT's 29th One Day Football Tournament Lucky draw were announced on the tournament day and the winning coupons were 1559 (1st - Sona Holidays), 1627 (2nd - Cycle n More), 422 (3rd – Mazhalai), 764 (4th - Meet n Eat), 2506 (5th - Vinu Home Appliances), 1868 (6th – Electron), 638 (7th - Login Point), 2406 (8th – Bethel), 2975 (9th – Nifi), 084 (10th - Indane), 1696 (11th - Yamaha), 1717 (12th - T Mart), 1147 (13th – Shalimar Jewels), 2378 (14th - Matha Super Market), 282 (15th - Angel Beauty Parlour), 713 (16th - Shankar Mani Jewels), 587 (17th - Marian Packs)

Most of the winners were given the gifts they won. Winners can approach NLT with coupons to claim their gifts. In the below photo, the first prize winner Mr. Nerson receiving the Sona Holiday's "5 Days Andaman Tour Package for 2" offer.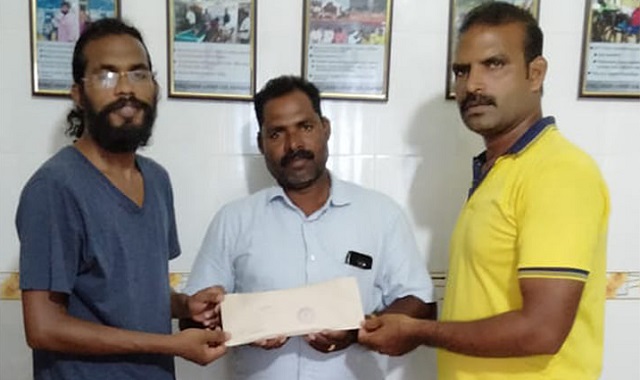 | | |
| --- | --- |
| Rate this message! | | |
Paska Beach at Thoothoor with toilet and other facilities
-


Added @ 02-04-2021@17.59.49(IST)
The 'Paska Festival' in Thoothoor is regionally famous and the parish will receive many Paska Festival travelers on Good Friday. They will participate in the Good Friday ceremonies and also will visit the beach. This year, youths in Thoothoor have made many arrangements on the beach including marking safety lines, pedestrian ways, separate toilets for females & males, and shade sheds, to comfort these travelers while on the beach. A photo below...


| | |
| --- | --- |
| Rate this message! | | |
Discussion with Kanyakumari District Fishermen: Makkaludan Puthiya Thalaimurai
-


Added @ 27-03-2021@17.48.36(IST)
In this program which was telecasted today, 27th March on Puthiya Thalaimurai TV channel, fishermen leaders and activists from across the coastal villages including Thoothoor region shared their opinion about the sufferings and demands of fishermen community. The video below...


| | |
| --- | --- |
| Rate this message! | | |
Fr. Joseph Baskaran resigned as the VF of Thoothoor Forane
-


Added @ 22-03-2021@12.30.12(IST)
Fr. Joseph Baskaran, the Vicar Forane of Thoothoor Episcopal Vicariate, is parting way and moving away for other responsibilities. Earlier, Fr. Joseph Baskaran had taken charge as the Vicar Forane just few months before on 17-August-2020 and the reason for his decision is not known.

Meanwhile, Neerodi parish priest Fr. Tony Hamlet is given the in-charge role to take care of the forane activities until a new Vicar Forane appointment.

URL-1: https://www.thoothoor.com/v5/thoothoor_parish.asp
| | |
| --- | --- |
| Rate this message! | | |
'Football News Tamil' channel by Lionel Antony from Thoothoor
-


Added @ 19-03-2021@17.15.35(IST)
'Football News Tamil' is a new youtube channel by Lionel Antony from Thoothoor. He is the younger son of former Tamilnadu Football Team Captain Antony Xavier (Kanthi) from Thoothoor. Please do watch and support if you find this channel impressive. The channel's first video below...


| | |
| --- | --- |
| Rate this message! | | |
St.Thomas Forane Church Thoothoor follows Pope Francis's '24 hours for the Lord' initiative
-


Added @ 13-03-2021@00.08.13(IST)
Despite the pandemic, Pope Francis has established that the '24 hours for the Lord' initiative will also be celebrated this year. As the Pontifical Council for the Promotion of the New Evangelization informs, the dates for the '24 hours' will be March 12-13, close to the fourth Sunday of Lent. Read more at the below link.

In view of this, St. Thomas Forane Church Thoothoor is conducting a 24 hours long adoration in the Church that will start at 8.30 PM on 12-03-2021 and ends at 8.30 PM on 13-03-2021. The parish priest Fr. John Dall and assistant parish priest Fr. Canvin Roach have made all arrangements for this.

URL-1: http://www.asianews.it/news-en/Pope-again-to-hold-'24-hours-for-t .....
| | |
| --- | --- |
| Rate this message! | | |
NLT's 29th Tournament Trophies to be named after Late Mr. Maria Vijayan
-


Added @ 02-03-2021@11.22.30(IST)
NLT is progressing with the preparations for the 29th One Day Football Tournament. NLT Tournament committee has decided to name the winners and runners trophy of Netaji's 29th One Day Football Tournament in memory of Late Mr. Maria Vijayan.

The year 2020 left an emotional loss to Netaji Library Thoothoor as an organization when Mr. Maria Vijayan died of a heart attack, and the decision to name the tournament trophies on his name for this year will be a good gesture for which everyone will appreciate NLT!.

| | |
| --- | --- |
| Rate this message! | | |
Netaji Library is on track for the 29th One Day Football Tournament
-


Added @ 25-02-2021@10.23.33(IST)
NLT is in full swing for the execution of the 29th One Day Football Tournament on 4th April 2021, Easter Sunday. The tournament committee was formed in the general body meeting held earlier. The Tournament Committee consists of Convenor (Mr. Sebash Carmel), Co-Convenor (Mr.Ditto), Treasurer (Mr. Maria Sajen), and around 15 executive members. This committee along with the NLT executive committee will execute the tournament. Below is the banner published by NLT for the tournament.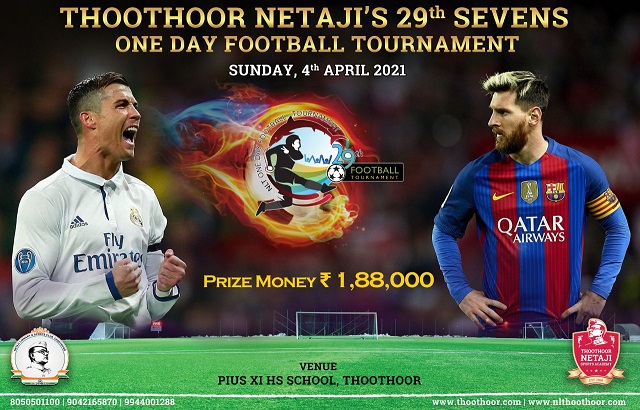 Trivandrum Archbishop transferred the decision making power to the Auxiliary Bishop
-


Added @ 24-02-2021@15.13.20(IST)
Arch Bishop of Latin Diocese of Trivandrum, His Grace Most Rev. Dr. Soosa Pakiam is celebrating the diamond jubilee birthday on 11th March 2021. With this, he is planning to retire from the responsibilities of Archbishop, and this decision has been communicated to the responsible Church higher authorities.

In this light, the Archbishop has sent a pastoral circular to all fellow clergymen. In the circular, he has informed his decision of transferring the decision-making power to the Auxiliary Bishop, Rev. Christhudas.

Click here to read the pastoral circular (Malayalam)

| | |
| --- | --- |
| Rate this message! | | |
Amy and Amisha sisters are back with State level medals again!
-


Added @ 17-02-2021@23.46.09(IST)
Tamilnadu State level Silambam competition was held at Vellore in which more than 300 participants from 16 districts from Tamilnadu state participated in different self-defense art games. In this competition, Amy and Amisha from Thoothoor won silver medals in Silambam in different age group wise levels and were selected for the next national-level competition. All gold, silver, and bronze medal winners of this state-level competition will participate in the national level Silambam competition scheduled to happen later this year.

Earlier in 2019 also, Amy and Amisha won the state-level competition with gold and silver medals but the national-level competitions were withdrawn due to Covid-19. It is notable that, these sisters were also honoured by Thoothoor parish during the Thoothoor Art and Cultural Festival 2020 that happened on 27th Dec. Both are daughters of Christhudas Jerome (Sunil) from Thoothoor currently residing in Chennai. Congrats Amy and Amisha!.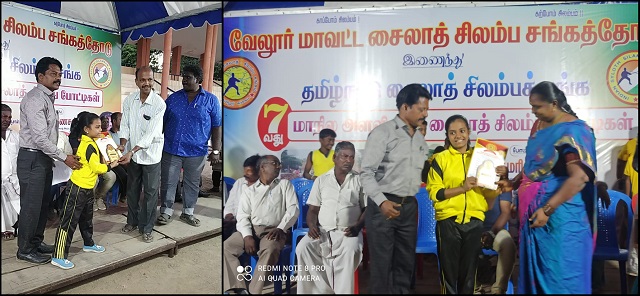 Shruthi Rahul from Thoothoor, mother of two, won Mrs Nagercoil title
-


Added @ 14-02-2021@23.55.32(IST)
Shruthi Rahul from Thoothoor won the Mrs. Nagercoil title in the competition conducted by AIHBA All India Beauty Association. They are initially conducting this in the district level under two categories such as 'Miss' & 'Mrs' in each districts from which the winners will participate in the state level competition and then the national one. Mrs. Shruthi Rahul from Thoothoor participated in the 'Mrs' category and won in the district level and got entry to participate in the state level competition.

Shruthi is mother of two daughters and is a beautician cum makeup artist. Shruthi is daughter of Mr. Cleetus and Mrs. Paviyanamma, and married to Mr. Ashwin Rahul.

Let us congratulate her! Check the below link for another photo.

URL1: http://www.thoothoor.com/v5/images ...
New Parish Council of Thoothoor parish took Oath on Sunday
-


Added @ 09-02-2021@00.29.55(IST)




Last Updated @ 09-02-2021@09.15.46(IST)
The election for new parish council for Thoothoor parish was conducted on 2nd Feb 2021. This election was conducted based on recently restructured units and wards. The parish council consists of the parish priest, assistant parish priest, the sister representative, 10 ward members, 7 ministries coordinators, and 1 BCC Coordinator which leads to a total of 21 members.

All the elected members took Oath during the 1st Sunday Mass on 7th Feb. Thoothoor parish priest Fr. John Dall lead the Oath ceremony along with the assistant parish priest Fr. Jim Carvin Roach.

The first meeting of the newly elected parish council was held on 8th Feb. In this meeting, new office bearers for the parish council were selected. They are Vice-President (Mr. Gilbert. L from Ward-9), Secretary (Mr. Anto from Ward-6), and Cashier (Mr. S. Antony from Ward-7). The handover procedures between the preceding parish council and the new parish council will be held shortly.

Let us wish and pray for all the Newly Elected Parish Council Members and Executives for rendering good service for the growth of the parish. Visit the below link for the list of the newly elected parish council members and the structure.

URL-1: http://www.thoothoor.com/v5/thoothoor_parish.asp
| | |
| --- | --- |
| Rate this message! | | |
NLT GBM on 7th February 2021
-


Added @ 04-02-2021@11.51.18(IST)
Netaji Library is conducting the General Body Meeting on 7-2-2021 at 11 AM. The GBM will be held at the Netaji Library building. 29th One Day Football Tournament is the primary agenda of this meeting. All general body members are requested to attend this meeting without fail.

The GBM notice is attached below.

URL-2: http://www.thoothoor.com/v5/dLoads/NLT/NLT-GBM07022021.pdf
| | |
| --- | --- |
| Rate this message! | | |
Fr. Francis Vincent passed away
-


Added @ 30-01-2021@00.27.46(IST)
The former secretary of Thoothoor St. Jude's College Rev. Fr. Francis Vincent passed away today, 30-01-2021 at CSI Medical Mission Hospital, Neyyoor. He was undergoing treatment for cancer since few years and recently his condition was declared very critical.

Fr. Francis Vincent had served as the Secretary of St. Jude's College 'on and off' during the late 2000s and early 2010s when the college was witnessing a lot of management issues and court cases due to differences among the founder fathers, board members, and the senior staffs of the college.

| | |
| --- | --- |
| Rate this message! | | |
Neithal Ezhuchi Peravai Protest at Thoothoor
-


Added @ 29-01-2021@09.37.42(IST)
Following the recent attack against fishermen at different locations, Neithal Ezhuchi Peravai held a protest at Thoothoor on 28-01-2021 with various demands to the government including taking strict actions against Kerala fishermen who are involved in the attack and the Srilankan Navy which killed 4 Ramanathapuram fishermen. Fishermen activists from across the coastal belt participated in the protest and delivered speeches against these attacks.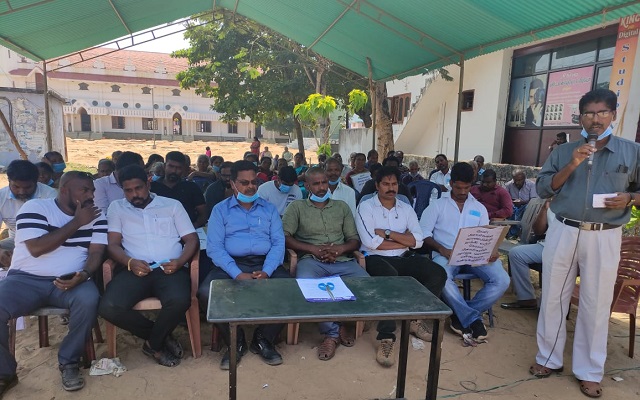 | | |
| --- | --- |
| Rate this message! | | |
TNSA FC Thoothoor won the Championship in Maravankudieruppu U15 Tournament
-


Added @ 27-01-2021@23.07.46(IST)
Thoothoor Netaji Sports Academy FC (TNSA FC) U15 team participated in the Maravankudieruppu Thansavis Matha Football Trophy 2021 that was held as a one-day tournament on 26-01-2021. TNSA FC entered the final match after defeating Jolly Friends FC Nagercoil in the 1st match (4-0), home team Maravai FC in the quarter-final (3-1), and SJB FC Poothurai in the semi-final (tiebreaker 7-6). In the final match, TNSA FC defeated Vaniakudi team (2-0) and won the Championship. TNSA FC players Dose received the Best Player of the Tournament award and Nesta received the Man of the (final) Match award. TNSA FC manager Mr. Douglus and Author Mr. Victor Dennis appreciated the team players and the Academy Coach for this marvelous victory.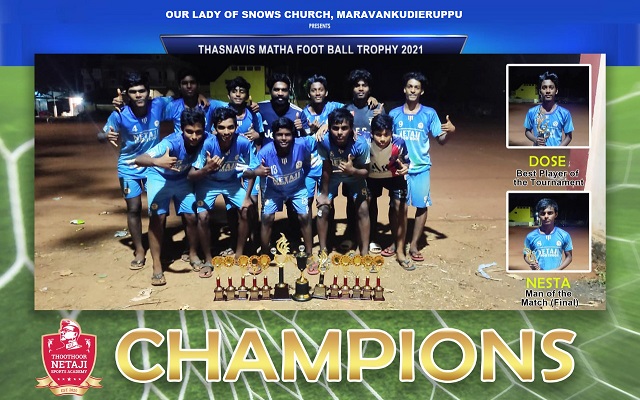 | | |
| --- | --- |
| Rate this message! | | |
Tamilnadu Chief Minister's Police Medal for Sindhy Kilimas from Thoothoor
-


Added @ 27-01-2021@00.06.59(IST)
Mrs. Sindhy Kilimas from Thoothoor received Tamilnadu Chief Minister's Police Medal from the District Collector during the Republic Day event on 26-01-2021, in recognition of her services in the Tamilnadu Police. Mrs. Sindhy Kilimas is working as a head constable in Tamilnadu Police in Tuticorin district. She is the daughter of (Late) Mr. Kilimas and Mrs. Floweramma from Thoothoor.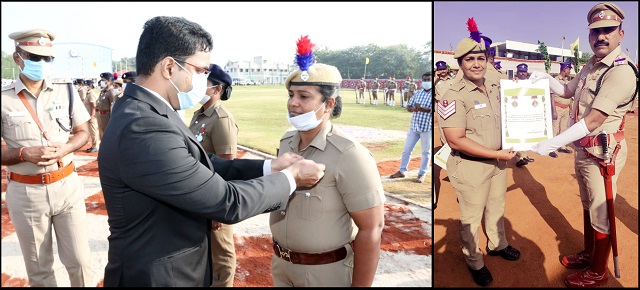 | | |
| --- | --- |
| Rate this message! | | |
Thoothoor parish priest Fr. John Dall's mother passed away
-


Added @ 25-01-2021@17.56.54(IST)
Mrs. Roslin Vilwas from Neerodi, mother of Thoothoor parish priest Fr. John Dall passed away today, 25th Jan 2021. She was undergoing treatment in a hospital at Kuleshekaram where her health deteriorated further and died in the morning hours. The body was taken to their home at Neerodi.

The funeral services will happen at Neerodi St.Nicholas Church at 3 PM on Tuesday, 26-01-2021. Many from Thoothoor are expected to attend the funeral services to pray for the departed soul.

Multiple incidents of attack against fishermen
-


Added @ 24-01-2021@21.29.17(IST)
In different violent incidents, fishermen from Thoothoor were attacked by Kerala fishermen at Cochin and fishermen from Eraviputhenthurai were attacked by northeast labours at Arabian Sea. In the first incident, around 20 Kerala fishermen severely attacked fishermen in a Thoothoor boat after a normal argument. As most of the crew members of this boat were northeast labours, they did not attempt to help these fishermen. In the second incident, a boat from Eraviputhenthurai was sailing in Arabian Sea with 2 Eraviputhenthurai fishermen and the remaining all from the northeast. Within days of sailing, the northeast labours demanded the boat to come back to Cochin. When the two fishermen denied citing the incurred expense for the trip and the ongoing good catching, they threatened to kill them. Since they were just two in numbers, they had no option but to surrender in front of the majority of northeast labours when the northeast labours forcefully drove the boat to Cochin.

These incidents are happening, while the Tamilnadu fishermen are already angry over the recent incident in which 4 Ramanathapuram fishermen were killed by Srilnakan army.

People are angry over these developments and the fishermen activists are discussing the further course of action to stop such incidents from repeating in the future.

| | |
| --- | --- |
| Rate this message! | | |
NLT celebrated Netaji's Birth Anniversary
-


Added @ 23-01-2021@13.03.42(IST)
Netaji Library Thoothoor has celebrated the 124th birth anniversary of Netaji Subhas Chandra Bose today, 23-01-2021. Thoothoor parish priest Fr. John Dall hoisted the national flag. A birthday cake was cut by NLT executives and was distributed to all participants of the celebration. A short video below.




| | |
| --- | --- |
| Rate this message! | | |
NLT conducted meeting with Parents of TNSA Trainees
-


Added @ 17-01-2021@22.55.30(IST)
Netaji Library has conducted a meeting with the parents of the boys who are undergoing coaching by Thoothoor Netaji Sports Academy. The message that 7 boys from TNSA are selected for the Ladder Cup trials is conveyed in the meeting. The Academy Coach has elaborated the details of the ongoing coaching and the future plans to step up the activities in the coming days. Feedbacks were obtained from parents to improve the academy activities. It is also decided to conduct a regular Parents-NLT meeting every 2nd Saturday.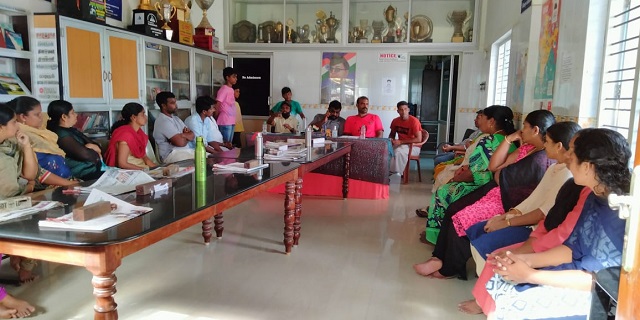 | | |
| --- | --- |
| Rate this message! | | |
An interview with Rejana from Thoothoor, the Asia Book of Record Achiever
-


Added @ 10-01-2021@13.38.05(IST)
Kumari Express youtube channel has interviewed the Guinness Record aspirant Rejana from Thoothoor. Rejana has won many prestigious records tiles such as Asia Book of Record, India Book of Record, Kalam's World Record, Champion Book of World Records, Vajra World Records. The interview below


| | |
| --- | --- |
| Rate this message! | | |
Reetha tr, Cantry tr, Maria Magdalena tr received Lifetime Achievement Award of Thoothoor
-


Added @ 07-01-2021@18.18.03(IST)
Eminent personalities from Thoothoor, Mrs. Reetha teacher, Mrs. Cantry teacher, and Mrs. Maria Magdalena teacher were awarded first of this kind special award titled 'Lifetime Achievement Award of Thoothoor'. Lifetime Achievement Awards were given to them on 27th Dec during the Art and Cultural Festival in Thoothoor in recognition of their extraordinary services for the various social and spiritual development of Thoothoor parish with unparalleled commitment and sincerity. Mrs. Reetha teacher received the award directly from Rev. Fr. Pancretius, while Dr. Albaris received the award on behalf of Canty teacher and Mr. Rajan received the award on behalf of his mother Maria Magdalena teacher.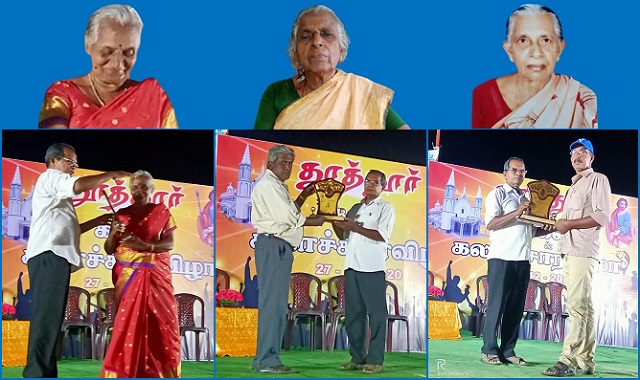 | | |
| --- | --- |
| Rate this message! | | |
Happy New Year
-


Added @ 01-01-2021@12.51.39(IST)
Thoothoor.COM wishing you . . .
Happy New Year

Mr. Anish Christ (Dubai) is sponsoring Thoothoor.COM website for the year 2021, and Mr. Jeen Cyril (USA) will be sponsoring Thoothoor.COM website for the year 2022. Special thanks to Mr. Johannan Lazer, the 2020 sponsor.

Click here to see the sponsorship History
| | |
| --- | --- |
| Rate this message! | | |
List of Delegates Participated in year: 2021
Admin - www.thoothoor.com., Jelestin Thobias., Fr. Jim Carvin Roach., Thadeus D., Kumar Kaspar., Jenet Das (Baiju)., Francis Cruze., Dennis Victor., Maria Sajen., Sibi Soosai Nayakam.,