Auxiliary Bishop inaugurated Mother Theresa Health Center in K.R.Puram
-

[Added @ 07-08-2022@00.00.59(IST)-]
A new health center, Mother Theresa Health Center, is inaugurated near the old Police Station at K.R.Puram - Thoothoor PO. Mr. Shalin from Chinnathurai of Mother Theresa Health Center revealed that the center is aimed to extend a lot of advantage services by providing quality health services including special regular health services for senior citizens, home services, and many more.

The Auxiliary Bishop of Trivandrum Archdiocese His Excellency Most Rev. Dr. Christhudas has innaugurated and blessed the new center. More photos here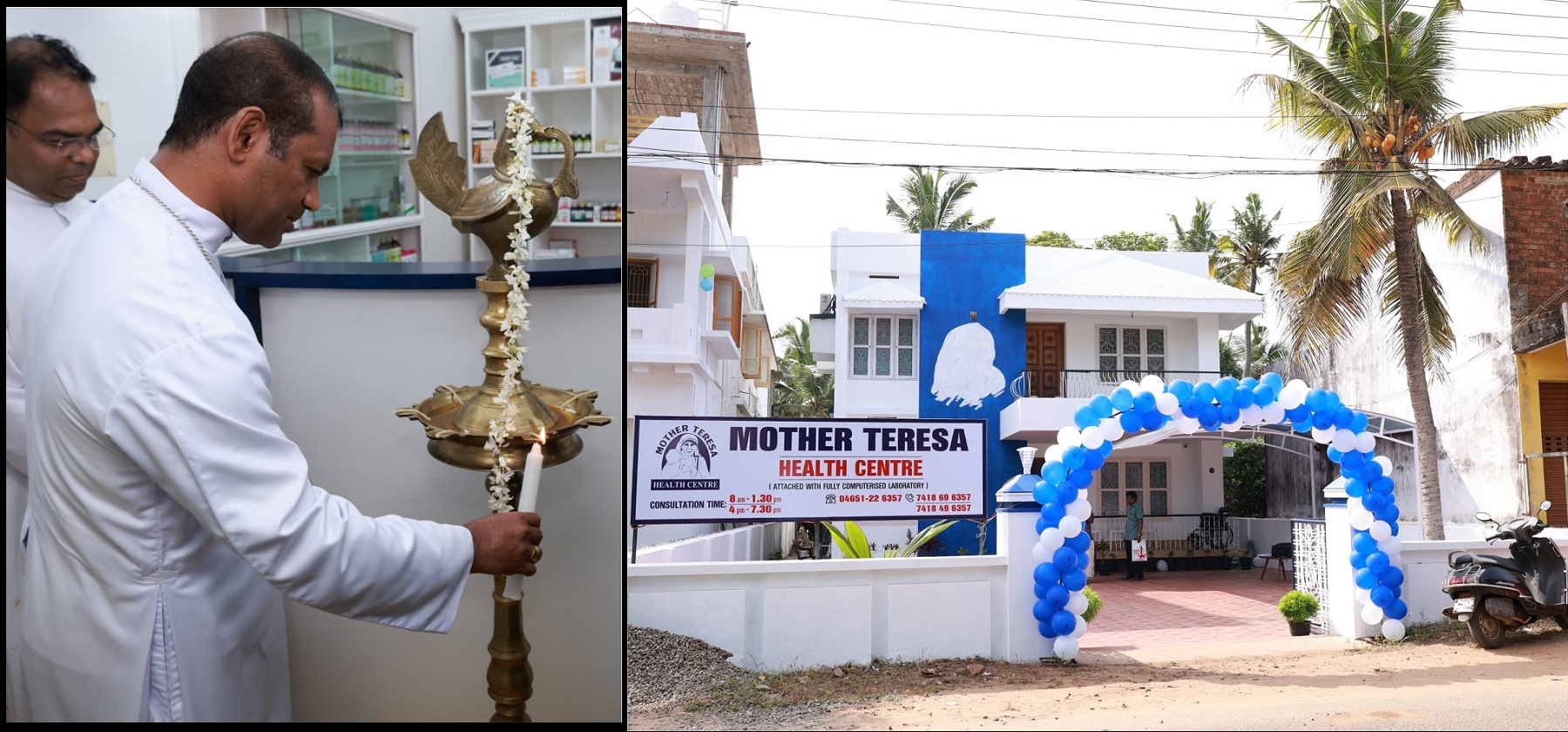 Food Fun Explore
-

[Added @ 17-09-2020@00.12.52(IST)-]
Food Fun Explore : A new YouTube channel specially for cooking, art, craft, kids activities like dancing, home decor, photography and Travelling etc..

Food Fun Explore is created by Mrs. Anu Anish from Thoothoor, currently living in abudhabi.

Channel message from Anish Jermanias

Welcome to our channel Food Fun Explore where you can experience the traditional, authentic, modern style of cooking, and paintings, art,craft will really inspire your kids specially,cooking, Photography and Travelling is like cherry of our channel where you can really inspire through many activities and lively travel vlog which will be really helpful to people who want to explore abudhabi and India. Our channels ultimate aim is to connect with people, and need to share experiences happening in life.

Kindly watch our videos, like, share and subscribe my channel, specially forward to ur family and friends groups which will really motivation for us to grow.

Check my channel link below

https://www.youtube.com/c/foodfunexplore

Regards
Anu

Email-1: (Note: Email-id displayed here is script protected from web crawl programs)
URL-1: https://www.youtube.com/c/foodfunexplore
URL-2: https://bit.ly/ffexplore
Dr. Sajeen's 2 Poems on Coronavirus
-

[Added @ 26-08-2020@13.10.10(IST)-]
Dr. Sajeen Arulees from Thoothoor has written two poems (Tamil and English) on Coronavirus pandemic. The Tamil poem is about the pandemic in general, and the Engish poem is about the pandemic in Thoothoor. Dr. Sajeen retired as an Assistant Professor, PG and Research Department of History, Government Arts College, Kumbakonam, Tamilnadu, India.

URL-1: http://www.thoothoor.com/v5/articles_view.asp?artnum=ART9875
eSeminar on 'NEITHAL LAND' by St. Jude's College Thoothoor Tamil Department
-

[Added @ 24-07-2020@16.54.10(IST)-]
The Tamil Department of St. Jude's College Thoothoor is hosting a 5 days e-Seminar on various aspects of Neithal land (Coastal land) in which Dr. J. Albaris, Dr. Kamala Murugan, Mr. Sumijin Donald, Mr. Kurumbanai C Berlin, Dr. Bharathi are leading the discussion each day. The College Principal Dr. C. Henry will join the event with the Welcome and Congratulatory message. Tamil Department HOD Mrs. M.Mary is organising this event along with other staffs of the department such as Mr. Jose. E. Kapin, Mr. Soosai Arul, Mr. Saji Kumar.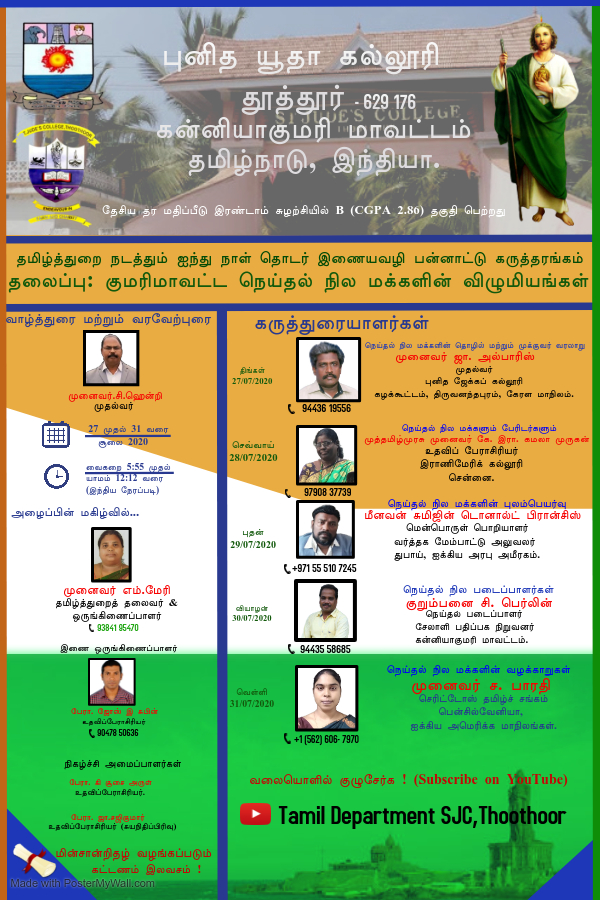 Pudhusuvai - A new YouTube channel for our traditional recipes, arts & crafts and gardening tips
-

[Added @ 11-07-2020@04.16.50(IST)-]
Pudhusuvai a new youtube channel is created by Mr.Antony Melkiyas from thoothoor living in Melbourne, Australia.

Channel Message from Mr.Antony M:
Welcome to Pudhusuvai!!! - all about celebrating every day cooking with simple recipes, creative ideas and gardening tips. I am inspired by the traditional recipes from India where I spent my childhood days. I like to make easy and delicious meals using fresh, seasonal products right in my kitchen in Melbourne, Australia. Wherever I am, there are certain things that always make me feel happy – cooking, gardening and of course, my family. My ultimate goal is to inspire you to create simple, delicious meals for your family and have an adventure right in your own kitchen.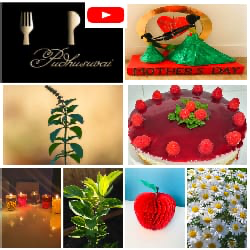 URL-1:
https://www.youtube.com/channel/UCgcAvhajHeA_wYP0z2MjZQQ
St. Jude's College Zoology Dept is conducting 5 days Faculty Development e-Program
-

[Added @ 02-07-2020@19.41.58(IST)-Edited @ 02-07-2020@23.34.25(IST)]
Dear Faculty Members/Professional/Trainers,

Greetings from Department of Zoology, St. Jude's College, Thoothoor, Tamil Nadu, India. We are Organizing Faculty Development Program on 'RECENT TRENDS IN LIFE SCIENCES'.

Date: 06/07/2020 to 10/07/2020, Time: 4:00 PM to 5:00PM
* Use the below link for registration

Participants will be informed about the FDP through e-mail. Also E-certificate will be provided active participants after filling feedback form at the end of webinar.

- Dr. C. Hentry, Principal
Convener: Dr. A. Barwin Vino
Organizing Secretaries: Dr. M. Dalin Mary HOD, Dr. Sini Bhadrasenan Pushpangadan
Committee member: Dr. S. Shanker, Dr. V. Vidhya

URL-1: https://forms.gle/oA2kQcyjXcVHgkZt5
kannamma.com in Thoothoor to do home delivery of Vegetables and Fruits
-

[Added @ 14-04-2020@23.51.03(IST)-]
kannamma.com in Thoothoor is planning take orders of vegetables and fruits and do home delivery of these items. Those who would like to use this facility shall call the given number between 1 PM to 6 PM to get the items delivered on the next day morning. More details in the attached banner.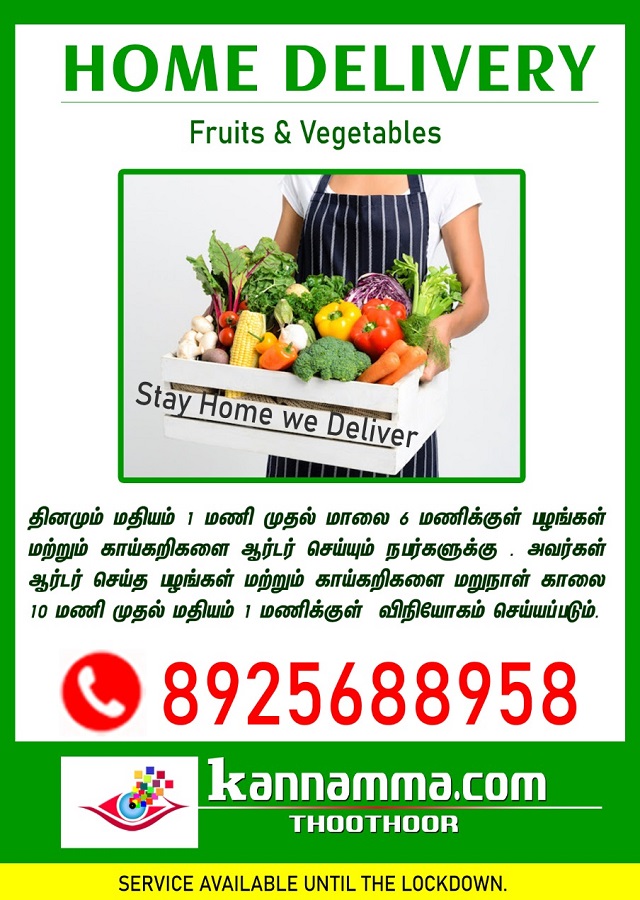 MRF Tyres Walk in Interview at St. Jude's College Thoothoor on 25th Feb
-

[Added @ 20-02-2020@09.52.11(IST)-]
MRF Limited, India's largest Tyre manufacturer, is conducting a Walk-in-Interview at St. Jude's College Thoothoor to hire B.Sc, M.Sc graduates (male candidates only) for the job positions such as Production Supervisor (BSc All Streams), Plant Technical Supervisor (BSc Chemistry / Physics, or MSc Chemistry), and Quality Assurance Supervisor (BSc Chemistry / Physics / Maths / Statistics) to work in their plant at Tamilnadu, Telangana, Goa, and Gujarat. The interview is scheduled to happen on 25-02-2020 at 9 AM. Those who have completed B.Sc/M.Sc in the years 2018 or 2019 and those who are completing the same in 2020 are eligible to attend this interview. Interested candidates should register themselves via the link given below before coming for the interview (Use URL-1 given below to register). More details below...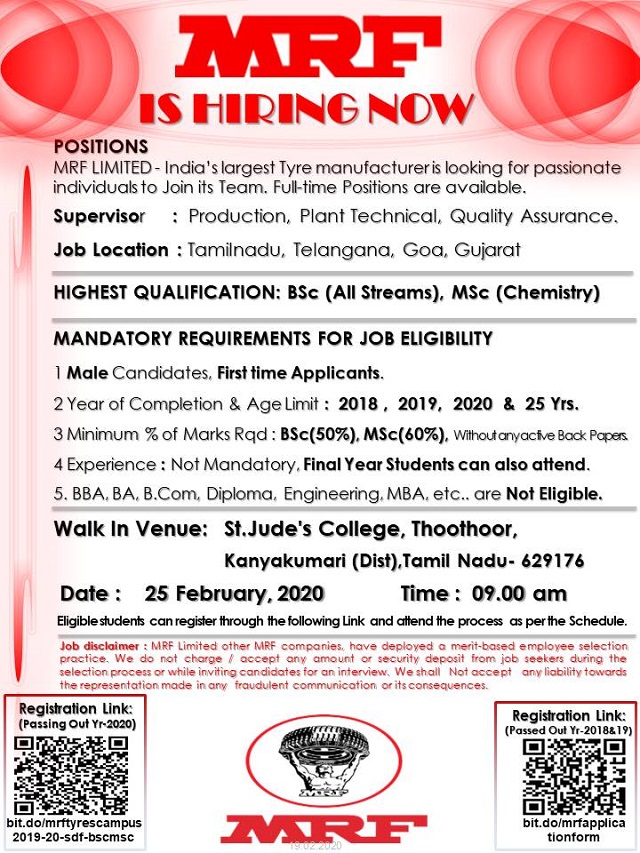 URL-1:
http://bit.do/mrftyrescampus2019-20-sdf-bscmsc
New Baby Care Center in Thoothoor - BEE HIVE
-

[Added @ 30-04-2019@22.49.47(IST)-]
A new Baby Care Center is opened near State Bank of India in Thoothoor for kids of age 2 to 4 years. Admissions are currently ongoing, for details please see the below poster and contact the given phone numbers.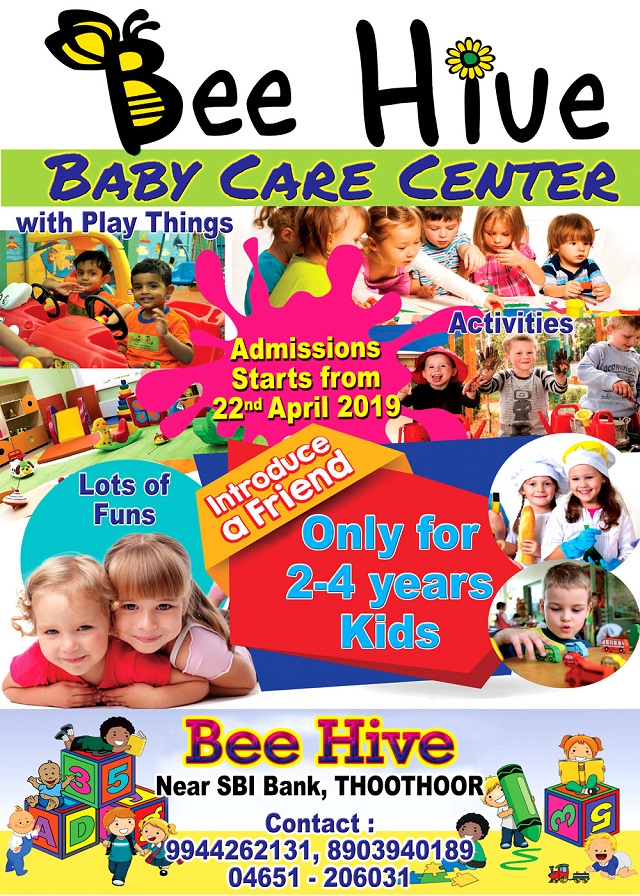 Skateboarding and Waveboarding with NIGIN BINISH
-

[Added @ 29-04-2019@14.33.05(IST)-]
The adventurist traveller, Nigin Binish, from Thoothoor is inviting students and youths to get introduced with Skateboarding and Waveboarding. Details available in the below display poster.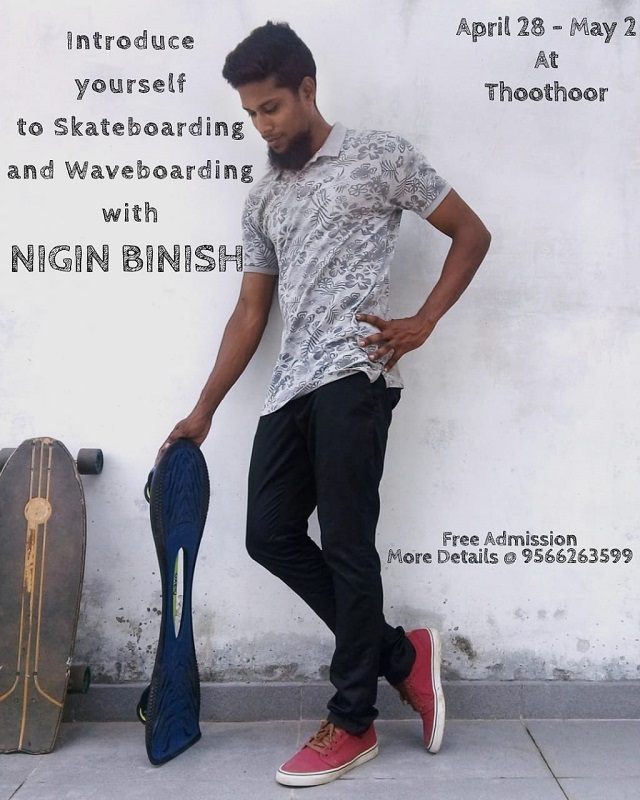 Baichung Bhutia Football Soccer school football trials
-

[Added @ 22-01-2019@17.54.24(IST)-]
Please note:The trials already started,now only Kochi and Ahmedabad segment is left,the below article is from before the trials started Please verify details on the BBFS website and number given below.

The Bhaichung Bhutia Football Schools (one of India's largest football training organisation, is launching trials for the 2019-20 batch of its football residential academy – BBFS Residential Academy situated in Greater Gurgaon, India.

The purpose of the trials is to scout for the best footballing talent across India who would then get a chance to join the second batch of students at the BBFS Residential Academy. A team of coaches from BBFS will conduct the trails for interested students aged between 10 and 15 years (who are currently studying in classes 5 to 9 and are seeking admission to classes 6 to 10).
Through this residential setup, BBFS, in partnership with Vedas International School, intends to create an environment which would help academy students achieve their dreams of becoming professional footballers while receiving quality education and not compromising on academics.

Although a paid academy, BBFS Residential Academy will also hold a fixed number of slots for scholarships – to be awarded to the most talented players in India.
Interested students to register for the trials by visiting www.bbfs.in/academy and may also contact +91-9599030181 for further details about the program.

URL-1: http://www.bbfootballschools.com
URL-2: http://www.arunfoot.com/bbfs-residential-academy-trials-to-be-held-across-i .....
URL-3: http://https://docs.google.com/forms/d/e/1FAIpQLSfXu_tIORuVsXoogsm1JdwGjsFv .....