Bulletin Board . . . . . ?

Baichung Bhutia Football Soccer school football trials
-

[Added @ 22-01-2019@17.54.24(IST)-]
Please note:The trials already started,now only Kochi and Ahmedabad segment is left,the below article is from before the trials started Please verify details on the BBFS website and number given below.

The Bhaichung Bhutia Football Schools (one of India's largest football training organisation, is launching trials for the 2019-20 batch of its football residential academy – BBFS Residential Academy situated in Greater Gurgaon, India.

The purpose of the trials is to scout for the best footballing talent across India who would then get a chance to join the second batch of students at the BBFS Residential Academy. A team of coaches from BBFS will conduct the trails for interested students aged between 10 and 15 years (who are currently studying in classes 5 to 9 and are seeking admission to classes 6 to 10).
Through this residential setup, BBFS, in partnership with Vedas International School, intends to create an environment which would help academy students achieve their dreams of becoming professional footballers while receiving quality education and not compromising on academics.

Although a paid academy, BBFS Residential Academy will also hold a fixed number of slots for scholarships – to be awarded to the most talented players in India.
Interested students to register for the trials by visiting www.bbfs.in/academy and may also contact +91-9599030181 for further details about the program.

URL-1: http://www.bbfootballschools.com
URL-2: http://www.arunfoot.com/bbfs-residential-academy-trials-to-be-held-across-i .....
URL-3: http://https://docs.google.com/forms/d/e/1FAIpQLSfXu_tIORuVsXoogsm1JdwGjsFv .....


What is New in Thoothoor.COM?

St.Thomas Community Hall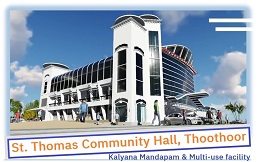 Parishes in Thoothoor Forane

Our Location Map