Registration to join with Thoothoor.com Community
Visitors can use this page to register with Thoothoor.com Community by filling the below registration form. Your request will be processed by us and you will receive your login details by email soon. Name, Email, Gender, Native, ABOUT ME, and Password are the Mandatory fields. You can also decide how you want your profile to be displayed to the visitors. There are 3 types are visibility available which you can set at every field level. Each visibility are explained below.
Public: All vistors can see public fields
Protected: Only Thoothoor.com community members can see protected fields (after login)
Private: Only you can see private fields

Registration Form


What is New in Thoothoor.COM?

St.Thomas Community Hall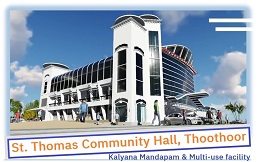 Parishes in Thoothoor Forane


Our Location Map