Bulletin Board . . . . . ?

Food Fun Explore
-

[Added @ 17-09-2020@00.12.52(IST)-]
Food Fun Explore : A new YouTube channel specially for cooking, art, craft, kids activities like dancing, home decor, photography and Travelling etc..

Food Fun Explore is created by Mrs. Anu Anish from Thoothoor, currently living in abudhabi.

Channel message from Anish Jermanias

Welcome to our channel Food Fun Explore where you can experience the traditional, authentic, modern style of cooking, and paintings, art,craft will really inspire your kids specially,cooking, Photography and Travelling is like cherry of our channel where you can really inspire through many activities and lively travel vlog which will be really helpful to people who want to explore abudhabi and India. Our channels ultimate aim is to connect with people, and need to share experiences happening in life.

Kindly watch our videos, like, share and subscribe my channel, specially forward to ur family and friends groups which will really motivation for us to grow.

Check my channel link below

https://www.youtube.com/c/foodfunexplore

Regards
Anu

Email-1: (Note: Email-id displayed here is script protected from web crawl programs)
URL-1: https://www.youtube.com/c/foodfunexplore
URL-2: https://bit.ly/ffexplore


What is New in Thoothoor.COM?

St.Thomas Community Hall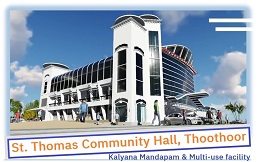 Parishes in Thoothoor Forane


Our Location Map