ALBUM: A house under construction in Thoothoor using Interlock Bricks
Mr Rajesh from Thoothoor is constructing his new house in Thoothoor using interlock bricks. This is the first house in our area that uses interlock bricks. House construction using interlock bricks, as explained by Rajesh, are cost effective, stronger, and provides comparatively better atmospheric comfort. Without outer wall plastering, this house looks much beautiful. More than anything what Rajesh was most interested is to adopt new inventions boldly and make some difference while building a house for himself. Some photos below.

Displaying... Selected Picture


What is New in Thoothoor.COM?

St.Thomas Community Hall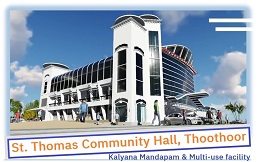 Parishes in Thoothoor Forane



Our Location Map