Article - WHERE IS PIUS XI HSS THOOTHOOR
Mr. P. Espin from Chinnathurai is the author of this article. Espin is an eminent teacher from our community and shows good interest in the education in our region.

In this article Espin analyses the current status of Pius XI HSS Thoothoor with the performace statistics data from 2010 to 2016. This article also describes the Strength, Weakness, Opportunity, and Threats that are attached to Pius XI HSS. Espin believes that this analysis can motivate, encourage and support the teachers as well as as the management to find the real solutions and various ways for our school development through their professional passion as well as commitment.

WHERE IS PIUS XI HSS THOOTHOOR

Add Your Comment/Feedback on this Article
NOTE: All comments for this article will be published AFTER REVIEW

Comment/Feedback on this Article

[09-06-2016@14.27.18(IST)]
Good article...As per this anslysis,Except Zoology,no one have the consistent improved result.There is ups & down in the result. So we can start from here to appreciate the best teacher.Why cant we appreciate the Zoology teacher who achieved the consistent improved result

[03-06-2016@18.10.17(IST)]
Excellent analysis.
But We people thinking about the school's future and students. But inside the school, Power game going on. What teachers thinking about the future of the school. Now fighting going for HM Post.
I am not discouraging. Where is Pius XI HSS THOOTHOOR.

[01-06-2016@13.41.17(IST)]
well done . need more study about our community for high expense in the daily life and alcholol

Policy on visitor comments...
Thoothoor.com visitors can post comments on delegate messages, articles, etc. Such comments are individual's personal view or feedback on that subject, and hence they need not be true or correct.
While adding a comment, please use only presentable words. Also do use your own name. If you want to hide your identity, you can use Guest as your name. Never use personally abusing words in the comments.
Visitor comments are reviewed by Delegate Administrators to verify its acceptableness in general.
Visitor comments are not the the view of Thoothoor.com. If you find any problematic comment, please report them to us immediately with specific details. We will act on such concerns in a timely manner.
For Thoothoor.com Terms of Usage, please check the 'Helps' page.


St.Thomas Community Hall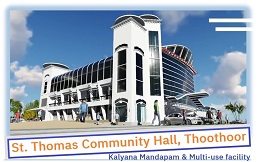 Parishes in Thoothoor Forane


Our Location Map