The Embarrassing Parents in the aftermath of the Plus Two examinations
Dr. Sajeen Arulees from Thoothoor is the author of this article titled "THE EMBARRASSING PARENTS IN THE AFTERMATH OF THE PLUS TWO EXAMINATIONS". In this article, the author has researched about the current mentality in our society in deciding the right career for their children and its real impact. Dr. Sajeen works as a Assistant Professor, PG and Research Department of History, Government Arts College, Kumbakonam, Tamilnadu, India.

THE EMBARRASSING PARENTS IN THE AFTERMATH OF THE PLUS TWO EXAMINATIONS

Add Your Comment/Feedback on this Article
NOTE: All comments for this article will be published AFTER REVIEW

Comment/Feedback on this Article

[22-12-2016@14.14.02(IST)]
It is an essential topic to PAUSE for retreat in the current time. I would like to record my sincere comments on this.

Plato said 'SERVICE' as an answer to desiple 's question 'WHAT IS KNOWLEDGE?'.
Confusius said 'KNOW THYSELF'.
Our Mahatma Ghandi said 'EDUCATION WITHOUT MORALITY IS DEADLIEST SIN'.

All these great people have inspired Great Kings to bow down to the feet of their teachings as they lived models ;thus stood as king makers. Now we are living in a society where sins are instituted.Teachers and parents are threaterned by students for their freedom.

Pupil are seldom considered as fore runners of future society,but they are mostly considered as products which are forcefully captured and send to the process to achieve the intutional results of money minded institutions and parents as well. Freedom of expression in terms of reaction from students are not sensed and considered.

Solution:

1.All the educational institutions should appoint a psychiatric expert for monitoring students behaviour and counselling.

2.Since they are dependents to parents also should be included under counselling for the transparent clear study of distracting factors of students preventing to know self responsibility.

3.Study of emotional intelligence,purpouse of reasoning,awareness of social needs,healthy methods of breathing should be the compelsory part of their study by practical work shop practice and field work in their own living society.

4.Parents should be enculcated to closely monitor their XI th STD children's mental and physical capability conditions while they are over loaded with XIlth std portions in addition enforced by their institution.

5.Parent's association must be created with an office for every school or common and headed by an Educationist aware legal regulatory proceedings.

6.All the cyber medias those are streached their hidden tricky netts to capture the young future architects of our society and Nation.

7.Parents should initiate all measures to liberate the intellectual capitals of our YOUTH ,since their eyes were captured by VANITY SIGHTS,they seldom aware the envied and jelous Country agents
daring to host such VANITY SITES in order to destroy the TIME for productive association of social responsibility and SELF EMPOWERMENT of INDIAN YOUTH.Beware unless any self effort taken to put LIGHT TO SAVE THE LOST IN VANITY THEY WOULD SEE THEIR NAKEDNESS AFTER LOSING THEIR RICHNESS AND PROSPERITY!

[03-05-2016@12.18.32(IST)]
What is the purpose of getting a degree without understanding self and society?

[01-05-2016@10.53.24(IST)]
What is the solution for this?

Policy on visitor comments...
Thoothoor.com visitors can post comments on delegate messages, articles, etc. Such comments are individual's personal view or feedback on that subject, and hence they need not be true or correct.
While adding a comment, please use only presentable words. Also do use your own name. If you want to hide your identity, you can use Guest as your name. Never use personally abusing words in the comments.
Visitor comments are reviewed by Delegate Administrators to verify its acceptableness in general.
Visitor comments are not the the view of Thoothoor.com. If you find any problematic comment, please report them to us immediately with specific details. We will act on such concerns in a timely manner.
For Thoothoor.com Terms of Usage, please check the 'Helps' page.


St.Thomas Community Hall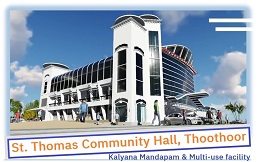 Parishes in Thoothoor Forane




Our Location Map