Chakkara Viyookatthil Tamizhaga Meenavargal
The coast of Tamil Nadu today is a hot bed. Upstream externalities have always negatively impacted our coasts, for, the latter are terminal ecosystems. The four TiNais (agro-climatic regions) of the Tamil country stay closely interlinked and hence cause- affect relationships remain inevitable and reciprocal. We lost the Ports of Pukhaar (Chozha dynasty) and Korkai (Pandya regime) in the past owing to lack of fore sightedness on the part of our leaders; today, in a globalised / liberalized environment, the same vice repeats and eats into the future of coastal communities…'Caught in a magic trap: The Tamil fishermen' addresses the current uneasy socio-political situation of the Tamil fishermen. It speaks of the insensitive and indifferent attitude of the union and a state government on issues of livelihood and habitat rights of the sea based communities and brings to the fore four critical instances- the Koodankulam, the Kachchatheevu, rare earth mining spree in
southern coasts and the Sethusamudhram canal- to substantiate the discussion. Most of what are perceived as 'fishermen issues', I'm afraid, will become one of the nation and its integrity as there is more than what meets the eye. This article, which appeared in Nov. 2013 issue of Theeranadhi, is a political analysis on the current issues of Tamil Nadu coast.
The author of this article,Dr. Vareethiah Konstantine (1959), from a coastal fishing family (Pallam, Kanyakumari), is researcher-activist, writer, trainer and consultant on coastal resource politics and participatory development; has authored /edited over 25 titles, six campaign booklets, 30 research papers and over 60 popular articles; as founder-publisher of Neidhal Veli (Estd. 2010) , he has published another 30 titles exclusively on our coasts and their people. He is Associate Professor, teaching Animal sciences and Fisheries at St. Jude's College, Thuthur since 1982.

Chakkara Viyookatthil Tamizhaga Meenavargal

Add Your Comment/Feedback on this Article
NOTE: All comments for this article will be published AFTER REVIEW

Comment/Feedback on this Article

[25-06-2019@10.51.42(IST)]
Excellent write up sir

[23-7-2014:22.59.21(IST)]
Dear Administrator, Could you publish all other articles oh Dr.Vareethiah too in this site.It will be greatful.

[1-4-2014:17.9.23(IST)]
A good article will trigger the minds of the reader and will invite diverse comments. So is this well presented article has attracted variety of open comments. Appreciate Vareed Sir for having addressed all key comments in the reply. Such exercise will make all of us more informed of the affairs those are relevant to us. Following Vareed Sir's reply, I searched internet further and found the role played by Priest Servatius around KNPP in the link http://www.gulf-daily-news.com/NewsDetails.aspx?storyid=319107. So touching. Thanks and looking forward such healthy discussions.

Just another note. States those have Nuclear power plants are Karnataka, Gujarat, UP, Rajasthan, Maharashtra and Tamil Nadu.

Construction in progress in TN, Gujarath & Rajasthan.

Projects in plan are: Haryana, MP, Rajasthan, Karnataka, TN, Maharashta, AP and Gujarath. More info at http://en.wikipedia.org/wiki/Nuclear_power_in_India. Are we in same boat with many other states in India?

[31-3-2014:11.33.33(IST)]
It's a pleasant surprise to see such rich discussions on an article of this kind. It proves, ours is a knowledgeable generation. At the outset I must thank the reviewers- M/s. Espin, Gennex, Fredy and Johnson and do hope more will join the list. Most of Gennex's views are positively intellectual- particularly the encroaching and poaching and strong arm tactics of Tamil Nadu fishermen. But I feel we had better address issues categorically. Exposure to the cultural component of fishermen will help us understand the issue more. The rulers dumped high end technologies on the traditional fishermen. At one point of time the same governments imposed sanctions on mechanised sector while allowing multinational industrial fishing vessels go scottfree. There was severe resource crunch- too many fleet in too little space vying for too small resource. Do we think mid sea firing and sanctions will put the issue on hold? Negotiations are perhaps one way to settlement of the chronic. Left to them, the fishermen might solve these issues. It is the the covet political operations of diplomatic channels from both ends that make things tough. I have written on these in my next write up mailed to thoothoor.com. As for Koodankulam issue. disinformation campaigns are on and it is quite natural that people conveniently believe it, like news from our borders. The first protest against KKNP proposal was staged in 1987. The Save Water', Save Life' National March of May 1989 was a massive protest against KKNP. And it was for this reason, the police resorted to unprovoked lathi charge and firing. Fr. Servatius, a lead activist was also badly hurt. The government went on a manhunt after the NGOs that participated and/or supported the march. People kept on protesting. The News of Fukushima episode 2011 and the Trial run at Koodankulam plant was the instant trigger for the massive struggle. Development is a double edged sword and we must be cautious every time we speak of it. All states demand energy and no one is prepared to allow a plant for (Nuke) energy. Tamil Nadu, and a populous coastal town at that, mus accommodate it at their peril! How do we justify that? We badly need energy, even if we are sure it will kill us? Manmohans' relatives or Kalams brothers family are not stationed in Kudankulam, the can speak fine philosophies! Gennex, if u have got time, please go to Idinthakarai, stay there for just one day, listen to your heart beat and then you can speak volumes on the grace of Zero carbon energy, my friend!I travel occasionally and meet such people and so I feel with them. I you cant, well I understand you.

[15-3-2014:11.28.22(IST)]
Yes sir what we lack at this moment of our development paradigm is the strong and consensual leadership. If we hadn't got a leader like sardar Patel ours wouldn't have formed into a country what we call as 'India'. Being an democratic country we cant emulate chinese model of development either. They like other developed countries followed the policy of forcefull displacement of indigenous people. We as a democracy cant follow that model to feed the million starving people. All those countries developed when there was no global climate change obligations and negotiations. Hence India as a nation faces this peculiar problems which encompass development,displacement,environment and globalisation. Unless we have dynamic leaders in the policy making of the country as a whole we as a civilization is doomed to fail.

[11-3-2014:23.31.58(IST)]
Thanks Gennex and Fredy promoting balance between Growth and Environment. Allow me to add few words of my own.
It is true that the present day (through the applications of knowledge, skills and technology) some become very rich and some poor. Would anyone like to stay in the poor economic class as a social group (caste, as we called it in the ancient past) because of the fear of some people, becoming RICH? As we have no right to make/suggest changes to our past (including what or who undermined us for generations), we have no right to judge those who get ahead in the Present day.
Nobody will dare to say the 2004 Tsunami was NOT a blessing in disguise. The Tsunami FORCED our people to think, live and enjoy life very differently than any generations we know.Until the NEAR PRESENT (between 1947 and 2004), our communities were going through a transition of moving from past to present. Social scientists, philosophers or historians are debating this drastic life changes and the events that lead to such changes.
just like we cannot say to our people that they must live near the seacoast no matter what happened, we cannot say to the forest dwellers not to put access roads, because they live in the forest? Of course, there is truth to fact that what happened in the forest has implications in the coastal areas. It is our responsibility to find solutions with minimum negative impacts. Rather than we hiding in the past mindset, let us embrace the changes in our society. When finding solutions, what is needed is the will not to forget the poor and needy when some people climb in their ladder of fortunes.

[10-3-2014:23.54.16(IST)]
The contribution from Gennex appears to be rational. Our fishermen consciously getting into foreign waters for fishing will need to be prevented, unless permitted. To be in par with other developed nations, India will also need massive amount of energy. Nuclear energy shall be a fulfilling factor (not considering the side effects). Our people's concern shall be, why populated Kudankulam was chosen when there are many less or populated areas in coastal line. Moreover the protest started very late. Project signed - 1988. Construction start – 2002. Kudankulam mini port operational – 2004. Start of protest – 2011. The demand of this delayed protest would have been securing permanent quota in job positions for those who live under the impact boundary, than demanding "NO" to the work that appeared hard to stop. We lacked in leadership(?).

[8-3-2014:14.5.10(IST)]
Though a well articulated article i do have some reservations about certain issues narrated by the author. In the build up to the Katchatheevu and the border-crossing issue i think the author failed to mention the 'encroaching' attitude of our fellow fishermen. The use of irattai madi and bottom trawling were ecologically unsustainable means of fishing. Moreover regarding 'poaching', if we look from the other side of the issue, the so called innocent fishermen are using this ecologically unsustainable means all along thier borders(Mannar island and Jaffna were not 'thaarai' vaarkapatta islands). Just for the sake that they have invested heavily, in a just society their act of poaching accounts to stealing and robbery.
Also the extreme pro-environment views doesn't augur well for a country which has intrinsic developmental deficits. Power as an all encompassing driver for economic growth has to be taken care of. Instead of saying a complete 'no' to nuclear power, the safety measures can be augmented considering the fact that nuclear is one such source with zero carbon footprint. For the effective functioning of a society one aspect has to be traded off for the other. If there is no development then there will be more unemployment, causing social chaos, which in turn will lead to the emergence of many anti-social elements.
Sustainable development is the way forward and not complete absence of development. Just my opinion based on my knowledge, correct me if i was wrong in any reasoning.

[26-2-2014:15.1.23(IST)]
Nowadays from child to old man, people are sinking into the world of cinema from big screen and serial from small screen, subsequently wasting the most valuable time and money as well as losing the ability to think and reflect. At this crucial period, a writer, through his writing, enable the current generation for thinking and cultivating the habit of reading is a herculean task and marvelous service. According to management guru of self mastery, good thinking makes talk, talk makes habit, habit makes character and good character makes good destiny. A writer is a born observer of the human society. In this regard, I personally appreciate and admire Dr.Vareethiah for his selfless noble work on the betterment of our fishermen community by his a great intellectual way. Because I read some of his articles and books, particularly "Karaikkuvaraatha meenava thuyaram". In this book, he narrates the sufferings of fishermen in terms of the past, present and future. Even though he has an negative opinion on privatization, globalization and liberalization of the new economic policy of our govt in favour of capitalism, he himself researched, analysed and found the facts as well as causes of every day problems of fisher folks related to the sea with his pure scientific approach and extreme community spirit. Moreover, his writing is an inspiration, motivation and encouragement for others including the budding writers. His books are the records for reference to future generation and policy makers from govt side. Therefore, I highly recommend that every member of our mukkuva community and politicians as well as beurocrats who make policy for developing fishing industry should read his articles as well as books and serve along with him for bright future of the community and country.

[26-2-2014:11.55.43(IST)]
Very good write up sir.

[24-2-2014:11.10.13(IST)]
Article written very good and informative.Great Work Dr.Vareethiah Konstantine

Policy on visitor comments...
Thoothoor.com visitors can post comments on delegate messages, articles, etc. Such comments are individual's personal view or feedback on that subject, and hence they need not be true or correct.
While adding a comment, please use only presentable words. Also do use your own name. If you want to hide your identity, you can use Guest as your name. Never use personally abusing words in the comments.
Visitor comments are reviewed by Delegate Administrators to verify its acceptableness in general.
Visitor comments are not the the view of Thoothoor.com. If you find any problematic comment, please report them to us immediately with specific details. We will act on such concerns in a timely manner.
For Thoothoor.com Terms of Usage, please check the 'Helps' page.


St.Thomas Community Hall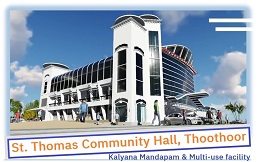 Parishes in Thoothoor Forane




Our Location Map