The Mukkuvas Through The Ages
The Mukkuva fishermen of Travancore trace their origin from the age of Indus Valley Civilization. They played a key role in shaping the Indus Valley Civilization. Fishing evolved as their chief economic activity. It preceded even agriculture and farming. With the arrival of the Aryans, they migrated to the southern part of the Indian peninsular. During the Sangham age they occupied the Neithel land, one among the five important land divisions. They found their means of livelihood from the tender mercy of the rough sea. It was the Christian missionaries who played a predominant role to mould their life status. Even before the advent of the Europeans, there were conversions made to Christianity among the Mukkuvas by St. Thomas but primary evidences are scanty. It was St. Francis Xavier who made mass conversion of the Mukkuvas to Christianity.

Thus the overall changes occurred in the social, economic, cultural and religious life of the Mukkuvas community is highly commendable. This article takes us through the ages of Mukkuvas with historical evidences.
Dr. Albaris J Thoothoor is the author of this article. In this article, he researched about Mukkuva community and the evolution of their life style through Ages. Dr. Albaris works as a Associate Prof. in History, Alagappa Govt. Arts College, Karaikkudi, Tamilnadu, India).

The Mukkuvas Through The Ages

Add Your Comment/Feedback on this Article
NOTE: All comments for this article will be published AFTER REVIEW

Comment/Feedback on this Article

[23-9-2014:19.43.57(IST)]
kindly translate the article in our mothertongue(tamil).thanking You.

[3-1-2013:23.24.19(IST)]
What happened to Mukkuvas after 1600?. I think their life style changed and faced several tribulations by the petty kings of South India. Till 19th century, they were working as medical practitioners (traditional) to the ruling men. Till the late Tamil Nadu minister for fisheries Lourdamma Simon, the Mukkuvas were trying only on country boats and she who upgraded the community and advised them to use mechanized boats....

[20-12-2012:6.59.19(IST)]
Appreciation to Albaris sir for good article about mukkuvar history.

[19-12-2012:23.15.33(IST)]
Very Good article , Every Mukkuvan should read this to know the history of our Culture and Civilization,

Policy on visitor comments...
Thoothoor.com visitors can post comments on delegate messages, articles, etc. Such comments are individual's personal view or feedback on that subject, and hence they need not be true or correct.
While adding a comment, please use only presentable words. Also do use your own name. If you want to hide your identity, you can use Guest as your name. Never use personally abusing words in the comments.
Visitor comments are reviewed by Delegate Administrators to verify its acceptableness in general.
Visitor comments are not the the view of Thoothoor.com. If you find any problematic comment, please report them to us immediately with specific details. We will act on such concerns in a timely manner.
For Thoothoor.com Terms of Usage, please check the 'Helps' page.


What is New in Thoothoor.COM?

St.Thomas Community Hall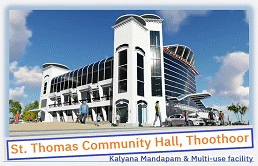 Parishes in Thoothoor Forane

Our Location Map