Article - The Role of Thoothoor in India
This article is a write up on Thoothoor's contribution at the national level. Thoothoor area poses very major role and significant economic and social contribution in the development of the nation.

The Role of Thoothoor in India
India's leading shark catchers :
"It needs to be understood that, with the exception of the Thoothoor fishermen, India does not have the skill to tap the resources beyond the continental shelf, unlike the Sri Lankans"- according to V.Vivekanandan, Chief Executive of South Indian Federation of Fishermen Societies (SIFFS).
"The only fleet that can be said to be specialized in shark fishing is the mechanized vessel fleet of the Thoothoor area in Kanyakumari District, Tamil Nadu. Around 500 to 600 mechanized vessels (32-45 ft long) use long-lines and go shark fishing all over the west coast of India, from Kanyakumari to Okha in Gujarat. This fleet, employing around 6,000 fishermen, came up in the late 1980s and is perhaps India's only genuinely deep-sea fleet. Though a part of the fleet has diver-sified to use large-mesh drift-nets for seer and hand-lines for perches, shark fishing remains the most important source of income. Though this fleet started with bottom longlining for shark on the continental shelf, especially between 100 m and 300 m depth, some of the units now fish with pelagic lines in the open ocean, where the depth is more than 1,000 m and where pelagic sharks are plentiful", according to V.Vivekanandan, Chief Executive of South Indian Federation of Fishermen Societies (SIFFS).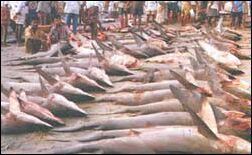 THE BAN ON SHARK FISHING : An Environment Ministry notification on July 11 has banned fishing of shark and ray, sea horses and giant grouper. The ban is a setback for the development of deep-sea fishing in India. Tuna and pelagic shark are the main offshore resources not exploited by Indian vessels, except to a limited extent by the Thoothoor fishermen. This ban itself came to light some time in September, when the Coast Guard started harassing the fishermen of Thoothoor in Tamil Nadu, who have the only fleet in India dedicated to shark fishing. It was the Coast Guard that informed the fishermen about the ban and not the State fisheries departments. And this ban is withdrew by the government of India after a strong oppose from the Fishermen organisations.
In a landmark initiative on 17 February 2002, Mr. V Vivekanandan, Chief Executive, SIFFS (South Indian Federation of Fishermen Societies), Thiruvananthapuram, made an unprecedented offer to CMFRI, on behalf of the Thoothoor shark fishers, the only specialized shark fishing group in India with 500–600 mechanized vessels, employing approximately 6000 fishermen. He said that the fishermen would take the CMFRI scientists in their boats, and help them collect species-wise data on shark landings in Indian waters.
The land of Football players :
"Since early 1970s, Football is the major game in thoothoor area", said Mr.Antony Xavier, TNSTC driver and also an old star player of Thoothoor.
According to Kumudam Reporter, dated 23 June 2002, "This is a land of football players in India". They also wrote as,"The players from Thoothoor, Chinnathurai, E.P thurai, Poothurai and Erayumanthurai are now playing for various leading football teams in India like BSF, Santhosh trophy team, ICF, Chennai-Nethaji team, University level teams, Clubs from West Bengal and all".
| | |
| --- | --- |
| | |
| NLT football stars with few trophies | Stars under construction from the land of thoothoor |
Nethaji Sports Club of Thoothoor is the only source for the football players of these villages. Nethaji Sports club is a Sports division of Nethaji Library Thoothoor (NLT). NLT is participating in most of the south India level tournaments and has won many trophies. Since 1991, NLT is conducting an annual foot-ball tournament with leading teams from India. National football contributors like ICF, Indian Bank, Customs, South Railway team and other leading clubs are participating in this. Since 2004, foreign teams are also participating in this tournament. Managers and coachs of leading teams take this tournament as an opportunity to hire talended players for their team. Thus playing with NLT is a winning experience.
Here are few winning benchmarks ...



Players from this land are constantly playing for the Santosh trophy events since many years. Santosh trophy is the most esteemed fotball series in India.



Mr.Sherin from Thoothoor got selected for national league football competition in India commenced in 2010. Sherin is the first player from our coastal area to play in national league football.



In 2009 Santhosh trophy tournament, Mr. Jegan from E.P. Thurai played as the vice-captain in the Tamilnadu state team.



Mr.Reegan of Thoothoor is a proud player of India Sub Junior Team. He got selected in this team in the year 2007.



Mr.Reegan of Thoothoor is a proud player of India Sub Junior Team. He got selected in this team in the year 2007.



Mr.Leo Frank from Thoothoor got selected for tamil nadu subjunior football team (under16) as a goal keeper.



Mr.Emmanuel of Thoothoor got selected for attending the All India Football Camp in 2005. He is one among 50 selectman all over India in the sub junior division.



In the Santosh trophy'2002 event, 4 out of 23 players of Tamilnadu santosh trophy team are from this area, they are Mr. Judes-Thoothoor, Mr. Edwin Raj-Chinnathurai, Mr. Gracious-Chinnathurai and Mr.Jagan- E.P.Thurai. Another Mr.Jagan of E.P.Thurai played for Indian Railway team.



Mr.Antony Xavier of Thoothoor was the captain of Tamilnadu Santosh trophy team during 2000.



Mr.Jagan(E.P.Thurai), another Mr.Jagan(E.P.Thurai) and Mr.Saji(Thoothoor) are players of ICF-Chennai(Integrated coach factory) team.



Chennai Nethaji Club's coach Mr.Sukumaran(Kerala) was a old player of Thoothoor team.



Tuticorin district football coach Mr.Theerthuse of E.P.Thurai is an old player of Thoothoor team, and still he is helping NLT in various occasions.



Mr.Antony of Thoothoor is the captain of Madurai Kamaraj University team in 2002, and his brother, Mr. Jude is also a player of the same team.



4 out of 18 players in the Tirunelveli M.S University team 2002 are from Thoothoor area.



Mr.Desease of Thoothoor was the Captain of Tirunelveli M.S University team in 2001.



Mr. Jamald of Thoothor played for the Indian bank team and Mumbai Hindustan Limited team.
NLT secretary, Mr. Maria Vijayan, said "we were able to achieve this with enough support from the people of Thoothoor". He also pointed out that if we are provided with a good ground and a talended coach, definetly our land will generate best players for our country.

Add Your Comment/Feedback on this Article
NOTE: All comments for this article will be published AFTER REVIEW

Comment/Feedback on this Article

[16-08-2017@11.40.09(IST)]
This is only for Thoothoor people

[15-08-2017@21.22.21(IST)]
sir...can i join ur club???


[27-1-2011:17.30.29(IST)]
From this report , i was highly inspired this quate's 'Mr.Antony Xavier of Thoothoor was the captain of Tamilnadu Santosh trophy team during 2000.' . For Entire tamilnadu people , Kanthi were the master of football in the year 2K and still kanthi are feeling more hunger to participating tournaments and winning great hearts. You are to be considered as 'Genious of player' at all time in our REGION. Valka Thalaiva...

Policy on visitor comments...
Thoothoor.com visitors can post comments on delegate messages, articles, etc. Such comments are individual's personal view or feedback on that subject, and hence they need not be true or correct.
While adding a comment, please use only presentable words. Also do use your own name. If you want to hide your identity, you can use Guest as your name. Never use personally abusing words in the comments.
Visitor comments are reviewed by Delegate Administrators to verify its acceptableness in general.
Visitor comments are not the the view of Thoothoor.com. If you find any problematic comment, please report them to us immediately with specific details. We will act on such concerns in a timely manner.
For Thoothoor.com Terms of Usage, please check the 'Helps' page.


St.Thomas Community Hall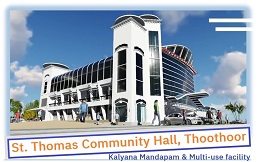 Parishes in Thoothoor Forane




Our Location Map