Delegate Message
Tragedy continues in Thengapattanam-Erayumanthurai harbour

-


Added @ 06-08-2022@07.44.41(IST)

While fishermen are set to start their post-ban sailing, the defective Thengapattanam-Erayumanthurai harbor keeps wounding them as in all previous years. In yesterday's tragedical incident, a Thoothoor boat owned by Mr. Titus when attempted to exit from the harbor for fishing conceded to the seashore outside the harbor due to the defective harbor mouth and its implications - visuals below. Attempts are being made to save the boat. Many boats are set to go to sea, but they fear that many other boats may also end up meeting such a fate unless the defect in the harbor mouth is rectified. While the tension remains, people and activists are exploring ways to reach out to the government and solve the problem immediately.



| | | |
| --- | --- | --- |
| Rate this message! | | |

Comment/Feedback on this Delegate Message

[09-08-2022@17.59.43(IST)]
Ithukku Mudive Kideyatha ???

If the harbor issues will not end then all our fishermen life will comes to an end.

Lets all together stand for this issue and bring a solution.

Take this matter in a serious manner and get into government view for taking a decision....


You are invited to . . .
join the "what-next" evolution of the website!
2 DAYS LEFT

click here


What is New in Thoothoor.COM?
Thoothoor Parish page is updated !

ENLARGE GO


St.Thomas Community Hall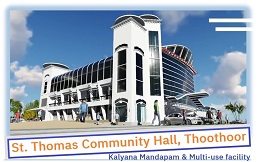 Parishes in Thoothoor Forane



Our Location Map