Delegate Message
Thoothoor parish in association with NLT setup hand wash facilities at Thoothoor bus-stand

Back

-


Added @ 21-03-2020@14.48.26(IST)

The impact due to Covid-19 or the Coronavirus is taking serious turn across the country and our region is no different. People are requested to stay safe at home instead of roaming outside unnecessarily. Washing hand with soap and water is instructed by the government as the most effective solution to protect people from Coronavirus spread. Thoothoor parish in association with Netaji Library Thoothoor, has enabled facilities in the bus-stand for people to wash their hand with soap and water. Two such facilities are available in the bus stand such as one besides NLT and St. Antony's Shrine, and another near the BSNL Tower. Some photos below…

Parish is also planning for Awareness Notice to be distributed among parishioners and also an Awareness Banner to be erected in the bus-stand. These will be made available shortly.





Rate this message!


Visitor Comment is DISABLED for this

The reason could be one of the following

This owner(s) do not want to yield any visitor comment.
The comments for this may be collected in a different section or forum
This does not require any further visitor comments.




Comment/Feedback on this Delegate Message
* You are the first person to post a comment for this Delegate Message, thank you.


Policy on visitor comments...
Thoothoor.com visitors can post comments on delegate messages, articles, etc. Such comments are individual's personal view or feedback on that subject, and hence they need not be true or correct.
While adding a comment, please use only presentable words. Also do use your own name. If you want to hide your identity, you can use Guest as your name. Never use personally abusing words in the comments.
Visitor comments are reviewed by Delegate Administrators to verify its acceptableness in general.
Visitor comments are not the the view of Thoothoor.com. If you find any problematic comment, please report them to us immediately with specific details. We will act on such concerns in a timely manner.
For Thoothoor.com Terms of Usage, please check the 'Helps' page.


St.Thomas Community Hall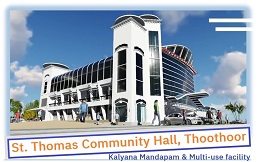 Parishes in Thoothoor Forane



Our Location Map