Delegate Message
Free WiFi in NLT is temporarily halted due to School Annual Examinations

Back

-


Added @ 17-03-2020@00.00.07(IST)

The free WiFi facility was an iconic feature Netaji Library Thoothoor is having since 2014. The Qatar Thoothoor Community (QTC) brought this facility in NLT to uplift Thoothoor as a Smart Village. The basic idea was to help students to gather education related information and job seekers to find job related information from various portals.

During the mid of 2019 time period, it was brought to the attention of the NLT executives that some kids are misusing this facility by using it during late night hours and also during the catechism time in the Church. Based on further discussion, a timer was installed at NLT to switch-on WiFi from 7 AM to 9 PM (weekdays) and 11.30 AM to 9 PM (Sundays). This was all going fine for the last few months.

Again recently, both QTC and few other well-wishers approached and suggested NLT to re-think on free WiFi facility altogether or at least stop it during this annual exam time. Based on these requests, NLT has taken an executive decision to restrict WiFi to only those who are actually in need instead of making it free for everyone. This change is implemented with immediate effect and thus free WiFi is temporarily stopped at NLT until further notice. Those who need the WiFi facility will be screened by the Library Officer before enabling connection to that specific device. NLT requests everyone's cooperation on this.


Rate this message!


Visitor Comment is DISABLED for this

The reason could be one of the following

This owner(s) do not want to yield any visitor comment.
The comments for this may be collected in a different section or forum
This does not require any further visitor comments.




Comment/Feedback on this Delegate Message
* You are the first person to post a comment for this Delegate Message, thank you.


Policy on visitor comments...
Thoothoor.com visitors can post comments on delegate messages, articles, etc. Such comments are individual's personal view or feedback on that subject, and hence they need not be true or correct.
While adding a comment, please use only presentable words. Also do use your own name. If you want to hide your identity, you can use Guest as your name. Never use personally abusing words in the comments.
Visitor comments are reviewed by Delegate Administrators to verify its acceptableness in general.
Visitor comments are not the the view of Thoothoor.com. If you find any problematic comment, please report them to us immediately with specific details. We will act on such concerns in a timely manner.
For Thoothoor.com Terms of Usage, please check the 'Helps' page.


St.Thomas Community Hall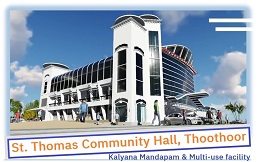 Parishes in Thoothoor Forane




Our Location Map