Delegate Message
Chain snatching incident happened at Thoothoor

Back

-


Added @ 11-12-2019@12.40.09(IST)

| | |
| --- | --- |
| On 10th December, 2019 at 8.40 PM a house wife from Thoothoor was walking to meet her relative in St.Alphonsa street. In bridge junction (north side of mandapam) two youths were waiting in a two wheeler there. When she crossed through - the youth sitting on the back side of scooter tried to snatch the Thali chain, she safe guarded herself and shouted - the robbers rushed and escaped. This incident created scare among the women to walk on that area. At that spot TWA was installed a Solar tower light, it was very helpful to all pedestrians, but for the past two months it is not working. If it had working that chain snatch incident should not have happened. | |

| | | |
| --- | --- | --- |
| Rate this message! | | |

Comment/Feedback on this Delegate Message

[11-12-2019@16.32.21(IST)]
As all we are waiting for the problems to give solutions and no one planning in advance to clear the problems. Yes, everybody knows that we don't have proper street lights in some of our places but still we are waiting for some sort of issues.
We are hearing some good news from TWA from UAE they were telling always in the TWA meeting we are working on our thoothoor development but until now there is no such kind development was happened or happening.
So my request is to take necessary action from the team or from thoothoor committee to clear these issues for our thoothoor people.
Hope we all will understand this.



St.Thomas Community Hall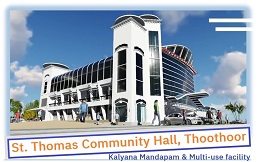 Parishes in Thoothoor Forane





Our Location Map