Delegate Message
Thoothoor Netaji won the Championship Trophy in Kochuthura Tournament

Back

-


Added @ 24-06-2019@08.22.21(IST)

Regionally prestigious Kochuthura Annual Tournament was held at Swapna FloodLight Statium on 22nd and 23rd June 2019. Netaji team won the championship after an exceptional no-loss performance in every matches played in the tournament in which a total of 16 teams participated. Netaji team defeated SMRC Kollemcode (2-0), St.James Vaniyakudi(1-0), and JaiChrist Adimalathurai (no-show) in the league round; SBFA Poovar (Penalty) in quarter-final; SMRC Kollemcode (2-1) in the semi-final; and the home team Swapna Kochuthura (match draw, penalty draw, won in toss) in the enthusiastic final to win the Championship Trophy. Joffin was the team captain, and NLT executives Jegan (John Paul), joint-secretary Darjilin Kuttan were the team managers.




Rate this message!


Visitor Comment is DISABLED for this

The reason could be one of the following

This owner(s) do not want to yield any visitor comment.
The comments for this may be collected in a different section or forum
This does not require any further visitor comments.




Comment/Feedback on this Delegate Message

[26-06-2019@17.31.23(IST)]
CONGRATULATIONS

[25-06-2019@11.48.06(IST)]
Congrats to team NLT for winning the trophy after such a long gap & hopefully the result will remain same in Vaniyakudi tournament which is around the corner. Special thanks to the senior players such as Joffin and reagon for taking all the efforts to ensure the team won the trophy. Excellent performance from all the team players & no words to express my gratitude. The team NLT has a reputation & the collective efforts of yours keep the reputation up. Special thanks to the managers & the management of NLT. You all deserve for kudos

[24-06-2019@21.57.26(IST)]
Congratulations to the players and team coordinators....

Great achievements after long way and the same victory we are expecting in the next vaniyakudi tournament....

A special thankful to Mr. Joffin who played a tremendous performance in the entire tournament

Please do all support to our netaji football team in the upcoming days...

[24-06-2019@15.00.31(IST)]
congrats team .....

[24-06-2019@08.55.33(IST)]
well done....& we expect more victory for our native. Conway our wishes who played & coordinated our team

Policy on visitor comments...
Thoothoor.com visitors can post comments on delegate messages, articles, etc. Such comments are individual's personal view or feedback on that subject, and hence they need not be true or correct.
While adding a comment, please use only presentable words. Also do use your own name. If you want to hide your identity, you can use Guest as your name. Never use personally abusing words in the comments.
Visitor comments are reviewed by Delegate Administrators to verify its acceptableness in general.
Visitor comments are not the the view of Thoothoor.com. If you find any problematic comment, please report them to us immediately with specific details. We will act on such concerns in a timely manner.
For Thoothoor.com Terms of Usage, please check the 'Helps' page.


St.Thomas Community Hall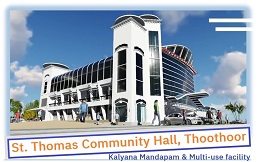 Parishes in Thoothoor Forane





Our Location Map