Delegate Message
Result of Nethaji's Marathon race on account of 72nd Independence Day of India

Back

-


Added @ 12-08-2018@22.59.20(IST)




Last Updated @ 13-08-2018@18.01.20(IST)

Thoothoor Nethaji conducted the Marathon Running on account of 72nd Independence Day of India on 12-08-2018 with 82 registered participants from different places. NLT President Mr. Jemald flagged off the running at 4.45 pm at Thoothoor Bus stand. The runners first reached the specified terminal at E.P.Thurai, then reached the second terminal at Erayumanthurai, and finally returned to the finishing point at Thoothoor Bus-stand after covering a distance of about 10 KM. Out of the 82 runners who started the race from Thoothoor, 81 of them reached the first terminal at E.P.Thurai and 63 of them reached the second terminal at Erayumanthurai. Finally, a total 56 runners completed the race by touching the finishing line at Thoothoor bus stand.

The winner of the race is Mr. Jose from Nithiravilai (Age 28; No:73), the 1st Runner-up is Mr. Akin from Thoothoor (Age 23; No.61), and the 2nd Runner-up is Mr. Tijin from Thoothoor (Age 20; No.64). The next 10 selected for the announced consolation prizes are Mr. Kishor from Thoothoor (Age 14; No.27), Mr.Bruno from Thoothoor (Age 14; No.81), Mr. Mejin from E.P.Thurai (Age 17; No. 63), Mr. Tushan from Chinnathurai (Age 17; No.55), Mr. Frandas from Thoothoor (Age 17; No.69), Mr. Lino from Thoothoor (Age 16, No.48), Mr. Jithu from Thoothoor (Age 13; No. 05), Mr. Kinu from Thoothoor (Age 12; No.25), Mr. Shabin Antony from Thoothoor (Age 13;, No.16), and Mr. Regiliyus from Thoothoor (Age 24; No.72). The next 43 runners who finished the race successfully will also be given participation prize and certificate. The Marathon event is sponsored by Mr. Sibi Rodel. Full Result is attached in URL-1. Check URL-2 for few photos.




URL-1: http://www.thoothoor.com/v5/dLoads/NLT/Marathon-12AUG2018-NLT-Res .....
URL-2: http://www.thoothoor.com/v5/ViewAlbum.asp?album=misc&pic=Marathon .....

Rate this message!


Visitor Comment is DISABLED for this

The reason could be one of the following

This owner(s) do not want to yield any visitor comment.
The comments for this may be collected in a different section or forum
This does not require any further visitor comments.




Comment/Feedback on this Delegate Message

[13-08-2018@10.37.04(IST)]
The participants of marathon should have age limitation. The age 15 and above shall be suitable for this event as it has only about 10km.

Policy on visitor comments...
Thoothoor.com visitors can post comments on delegate messages, articles, etc. Such comments are individual's personal view or feedback on that subject, and hence they need not be true or correct.
While adding a comment, please use only presentable words. Also do use your own name. If you want to hide your identity, you can use Guest as your name. Never use personally abusing words in the comments.
Visitor comments are reviewed by Delegate Administrators to verify its acceptableness in general.
Visitor comments are not the the view of Thoothoor.com. If you find any problematic comment, please report them to us immediately with specific details. We will act on such concerns in a timely manner.
For Thoothoor.com Terms of Usage, please check the 'Helps' page.


St.Thomas Community Hall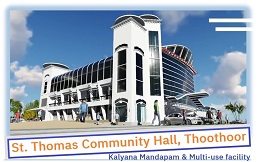 Parishes in Thoothoor Forane



Our Location Map