Delegate Message
Nethaji Thoothoor won the Vaniyakudi Tournament Cup!

Back

-


Added @ 09-07-2018@12.09.45(IST)

In the regionally famous Vaniyakudi 2 days 7's tournament that ended on 8th July 2018, Nethaji Thoothoor team won the Cup by defeating Poovar team in the final match. Joffin was the captain and other players played for Nethaji team were Judson, Jeffry, Sanju, Anil, Baby John, Sijin, Jackson, Tijin, and Nithison. Antony Edward was the team manager. Before the final match with Poovar team, Nethaji played with Trivandrum and Poothurai teams in the league, E.P.Thurai team in the quarter final, and Parithiyur team in the semi-final. Judson of Nethaji team is selected as the Best Goal Keeper of the tournament. Congrats NLT!




Rate this message!


Visitor Comment is DISABLED for this

The reason could be one of the following

This owner(s) do not want to yield any visitor comment.
The comments for this may be collected in a different section or forum
This does not require any further visitor comments.




Comment/Feedback on this Delegate Message

[10-07-2018@08.56.18(IST)]
It's very great to see after two years again we did it.

Congratulations for all the players and very proud to say that all the players are juniors and all hoping that this team will create a great successful for our nethaji foot ball team.

Tremendous play from Joffin and Jackson

Thanks to Antony Edward to take over the teams and really we get full support from thoothoor people

Thanks to all and the success to come in the future


[10-07-2018@00.02.33(IST)]
Congrats all the team members & coaching staffs for this great acheivement. Truely deserves for the trophy as they played really well throughout the tournament. Much needed one as our performance not was upto the mark in the last few tournaments Netaji played. By winning the prestegious trophy you guys proved that Netaji is one of the best team out there

[09-07-2018@17.13.15(IST)]
Mass

[09-07-2018@12.49.12(IST)]
Congratulation NLT Team and Manager.

Policy on visitor comments...
Thoothoor.com visitors can post comments on delegate messages, articles, etc. Such comments are individual's personal view or feedback on that subject, and hence they need not be true or correct.
While adding a comment, please use only presentable words. Also do use your own name. If you want to hide your identity, you can use Guest as your name. Never use personally abusing words in the comments.
Visitor comments are reviewed by Delegate Administrators to verify its acceptableness in general.
Visitor comments are not the the view of Thoothoor.com. If you find any problematic comment, please report them to us immediately with specific details. We will act on such concerns in a timely manner.
For Thoothoor.com Terms of Usage, please check the 'Helps' page.


St.Thomas Community Hall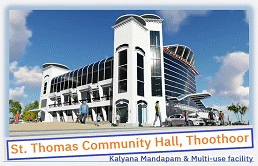 Parishes in Thoothoor Forane


Our Location Map