Delegate Message
New Office Bearers of NLT

Back

-


Added @ 05-07-2018@23.32.17(IST)

The general body meeting of Nethaji Library Thoothoor to elect the new office bearers for next 2 years is conducted at 8 PM on 4th July 2018. The president Mr. Marlin welcomed all the general body members and the Secretary Mr. Jenet Das presented the 2 years report of the NLT activity. Followed by that, the new office bearers were selected such as Mr. Jemald Vincent (President), Mr. Anitus (Vice-President), Mr. Berny Filco (Secretary), Mr. Darjilin Kuttan (Joint Secreatry), Mr. Joseph Xaviour (Treasurer), and Mr. Antony Edward (Sports Manager). Also Mr. Jegan, Mr. Starvin Jose, Mr. Flavio, Mr. John Sampath, Mr. Ignacious Layola, Mr. Pius, Mr. Jenet Das, Mr. Jimsen, Mr. Emal Raj were selected as executive member. A Bye-law committee is formed and tasked to re-create the bye-law consulting the senior members of NLT. All the new office bearers assumed respective charges with immediate effect. Check the below link for the photos of the general body meeting.




URL-1: http://www.thoothoor.com/v5/ViewAlbum.asp?album=NLT_GBM_04JULY201 .....

Rate this message!


Visitor Comment is DISABLED for this

The reason could be one of the following

This owner(s) do not want to yield any visitor comment.
The comments for this may be collected in a different section or forum
This does not require any further visitor comments.




Comment/Feedback on this Delegate Message

[07-07-2018@12.25.04(IST)]
Congratulations to all the new executive committee. Thank you for those who did a good job to run the administration for the past two years.

[07-07-2018@13.12.56(IST)]
Wishing to new elected NLT executives to survive for the development of our community.

Policy on visitor comments...
Thoothoor.com visitors can post comments on delegate messages, articles, etc. Such comments are individual's personal view or feedback on that subject, and hence they need not be true or correct.
While adding a comment, please use only presentable words. Also do use your own name. If you want to hide your identity, you can use Guest as your name. Never use personally abusing words in the comments.
Visitor comments are reviewed by Delegate Administrators to verify its acceptableness in general.
Visitor comments are not the the view of Thoothoor.com. If you find any problematic comment, please report them to us immediately with specific details. We will act on such concerns in a timely manner.
For Thoothoor.com Terms of Usage, please check the 'Helps' page.


St.Thomas Community Hall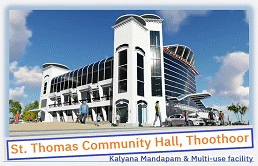 Parishes in Thoothoor Forane


Our Location Map