Delegate Message
Rejana's Painting Exhibition at NLT

Back

-


Added @ 28-04-2018@15.20.52(IST)

Rejana from Thoothoor, a Guinness aspirant has done many accomplishments in drawing and painting. Netaji Library Thoothoor is hosting a 3 days Exhibition of her Paintings from 29th April to 1st May 2018 from 8AM to 8PM each day. The exhibition will be inaugurated by Caricature Guinness Record Holder Shri William P Artist in the presence of other dignities. Check the below link for the banner announcement.

It would be appropriate to recall that Rejana's drawing for the theme 'Life after Ockhi' was selected as one of a winner in the Passion of Ockhi contest that Thoothoor.COM and NLT has conducted on account of NLT's 27th One Day Football tournament.

URL-1: http://www.thoothoor.com/v5/ViewAlbum.asp?album=mi .....

Rate this message!


Visitor Comment is DISABLED for this

The reason could be one of the following

This owner(s) do not want to yield any visitor comment.
The comments for this may be collected in a different section or forum
This does not require any further visitor comments.




Comment/Feedback on this Delegate Message
* You are the first person to post a comment for this Delegate Message, thank you.


Policy on visitor comments...
Thoothoor.com visitors can post comments on delegate messages, articles, etc. Such comments are individual's personal view or feedback on that subject, and hence they need not be true or correct.
While adding a comment, please use only presentable words. Also do use your own name. If you want to hide your identity, you can use Guest as your name. Never use personally abusing words in the comments.
Visitor comments are reviewed by Delegate Administrators to verify its acceptableness in general.
Visitor comments are not the the view of Thoothoor.com. If you find any problematic comment, please report them to us immediately with specific details. We will act on such concerns in a timely manner.
For Thoothoor.com Terms of Usage, please check the 'Helps' page.


St.Thomas Community Hall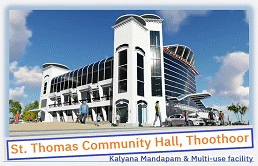 Parishes in Thoothoor Forane


Our Location Map