Delegate Message
The Video of the Launching of NLT's Talent Platform and Arts Platform

Back

-


Added @ 04-03-2018@16.11.46(IST)

Below is a short video of the launching event of NLT's Talent Platform and Arts Platform happened on 2nd March 2018 at 7pm. There is overwhelming response from students, youth, women, and public for this initiate. Watch the video below.


URL-1: https://www.youtube.com/watch?v=5raJOLRSlK4

| | | |
| --- | --- | --- |
| Rate this message! | | |

Comment/Feedback on this Delegate Message

[22-03-2018@11.52.19(IST)]
Thanks guest.
NLT is also in the plan of enhancing it as a permanent setup with a relevant design for the talent platform. Ideas are welcome in designing this permanent platform. Once the plannings are ready, we will look for sponsors to support this.

[21-03-2018@12.06.06(IST)]
Really awesome. How can we contribute to bring this as ongoing event?

[05-03-2018@10.00.19(IST)]
Dear Brother,

The creative work which you made is really appreciable and this give others to have good platform to show their creative and innovative ideas.....


Dear NLT Team,


Bring those people has more creative and innovative ideas, give opportunity for those people and let them bring thoothoor as proud.......


St.Thomas Community Hall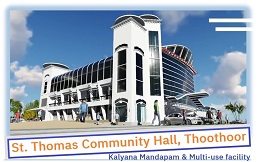 Parishes in Thoothoor Forane



Our Location Map