Delegate Message
Raegan from Thoothoor to lead TN Santhosh trophy team

Back

-


Added @ 08-01-2017@12.14.26(IST)




Last Updated @ 08-01-2017@21.33.28(IST)

Thoothoor region reached another milestone in its football fame as Raegan from Thoothoor is announced as the Captain of Tamilnadu Santhosh trophy team for 2017. Including Raegon, 3 players are selected in the team from our region such as Mr. A. Reagan [Captain] from Thoothoor, Mr. A. Jacksan Dhas from Vallavilai, and Mr. S. Shinu from Kollamcode.

This is Raegan's 7th consecutive appearance in Tamilnadu football team squad. He was a top contributor in the last year Santosh trophy tournament, scored hat-trick goals against the Punjab team in which the Tamilnadu team qualified for the semi-finals of the 70th Senior National Football Championship for Santosh Trophy. Raegan works as an auditor in Office of CAG (Comptroller and Auditor General) in Chennai. He is an exceptionally talented striker played for many renowned teams including the Indian Football Team Sub Junior and junior category during the year 2006- 2008 and Tamilnadu Football team during the year 2011 – 2017.

Raegan (29), a star performer and also many time captain of NLT football team, is son of Mr.Albernas and Mrs. Mary from Thoothoor. This is the first time a player from our region to get the captaincy role in Tamilnadu Santhosh trophy team. Earlier Jegan from E.P.Thurai performed as the vice captain.

Thoothoor.com congratulates Reagan, Jacksan Dhas, and Shinu for their entry into the team, and especially Reagan for this milestone achievement.

Visit URL-1 for the official list of Tamilnadu team.

URL-1: http://www.thehindu.com/todays-paper/tp-sports/Tam .....

Rate this message!


Visitor Comment is DISABLED for this

The reason could be one of the following

This owner(s) do not want to yield any visitor comment.
The comments for this may be collected in a different section or forum
This does not require any further visitor comments.




Comment/Feedback on this Delegate Message

[09-01-2017@07.59.21(IST)]
The achievement by Raegan is unforgettable moments of our thoothoor region. Time to expose our self into international sports side. Our elders and responsible people at hometown should be alert to take your community into that situations. Need to celebrate this moments and use all improvements in policts too. All the very best to Raegan and tamilnadu team to win the Trophy. My prayers and wishes to achieve the big goal. Cheers dears...!!!

[08-01-2017@15.53.23(IST)]
Congratulation Mr. Raegan, we will pray to achieve more to win the title under your captainship this year.

[08-01-2017@16.16.20(IST)]
Congrats.

[08-01-2017@12.42.29(IST)]
tamil nadu number one fastest striker

[08-01-2017@13.02.25(IST)]

Policy on visitor comments...
Thoothoor.com visitors can post comments on delegate messages, articles, etc. Such comments are individual's personal view or feedback on that subject, and hence they need not be true or correct.
While adding a comment, please use only presentable words. Also do use your own name. If you want to hide your identity, you can use Guest as your name. Never use personally abusing words in the comments.
Visitor comments are reviewed by Delegate Administrators to verify its acceptableness in general.
Visitor comments are not the the view of Thoothoor.com. If you find any problematic comment, please report them to us immediately with specific details. We will act on such concerns in a timely manner.
For Thoothoor.com Terms of Usage, please check the 'Helps' page.


St.Thomas Community Hall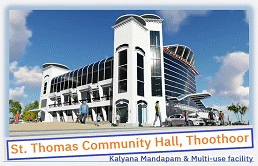 Parishes in Thoothoor Forane


Our Location Map