Delegate Message
TWA upgraded QTC's Free WIFI in Thoothoor.

Back

-


Added @ 04-05-2016@11.06.12(IST)

A Message from TWA (Robin S.)

Our QTC(Qatar Thoothoor Community) has started free WIFI at our NLT about one year back. Since the requirements of Data to access our native people is more, it has to be upgraded in to high level Data down load & its speed. With the acceptance of QTC, the connection has been upgraded by TWA, and the Plan also has been changed from monthly in to yearly. Since the payment of upgraded annual plan connection is very higher, TWA supports QTC to run the high end WIFI system in successful.

The extension of WIFI to cover more area in our native by using additional devices on networking system is on processing by TWA.

' ....UNION IS STRENGTH... '


Rate this message!


Visitor Comment is DISABLED for this

The reason could be one of the following

This owner(s) do not want to yield any visitor comment.
The comments for this may be collected in a different section or forum
This does not require any further visitor comments.




Comment/Feedback on this Delegate Message

[07-06-2016@09.51.21(IST)]
As per 'Friend' suggestions, TWA is working on it,and have been installed software, devices & server already in connection with WIFI at NLT.
Hope on working condition very soon.

[17-05-2016@13.39.58(IST)]
Congratulations to Team TWA & QTC. Great Effort by QTC & TWA, As mentioned by Well wisher, please block unnecesary website.If possible implememt some screening and limit the downloads , so that essential access will not be interrupted,This service should not be misused by anyone..

[10-05-2016@21.49.33(IST)]
This matter is true!!!yet please change the name Qatar thoothoor community(QTC) NOT a QTA.Thanks.

[05-05-2016@19.13.46(IST)]
QTA you are rocking...Please hide unwanted adult websites while providing.

Policy on visitor comments...
Thoothoor.com visitors can post comments on delegate messages, articles, etc. Such comments are individual's personal view or feedback on that subject, and hence they need not be true or correct.
While adding a comment, please use only presentable words. Also do use your own name. If you want to hide your identity, you can use Guest as your name. Never use personally abusing words in the comments.
Visitor comments are reviewed by Delegate Administrators to verify its acceptableness in general.
Visitor comments are not the the view of Thoothoor.com. If you find any problematic comment, please report them to us immediately with specific details. We will act on such concerns in a timely manner.
For Thoothoor.com Terms of Usage, please check the 'Helps' page.


St.Thomas Community Hall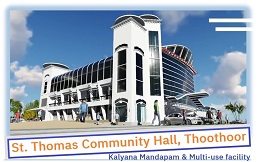 Parishes in Thoothoor Forane





Our Location Map