Delegate Message
Update from KFDS regarding Best Teacher Award

Back

-


Added @ 04-03-2016@21.20.59(IST)

Wishes from KFDS. As we already communicated, we have passed a resolution for Best Teacher Award in an earlier meeting and requested school administration to cooperate, but there was no progress happened afterwards. We have also submitted an appeal to the administration as decided in the December'2015 meeting and following up the matter. Through this update message, we would like to inform all our well wishers that we are unable to make any progress due to the above said reason, but trying our best. Attached (URL-1) is the appeal letter we had sent. URL-2 is the Award resolution we had published earlier.

URL-1: http://www.thoothoor.com/v5/dLoads/KFDS_RegardingB .....
URL-2: http://www.thoothoor.com/v5/delegates_message_fb.a .....

| | | |
| --- | --- | --- |
| Rate this message! | | |

Comment/Feedback on this Delegate Message

[05-03-2016@13.54.29(IST)]
Let me thank, appreciate and salute all the members, including the president Mr. Antony Xaviour, of KFDS for the wholehearted and continuous efforts towards the success of the noblest project BEST TEACHER AWARD. Meantime it is very sad to notice that the careless and indifferent attitude of school management including school Headmaster on this regard. At this crucial and critical stage, the management along with Headmaster must come forward with open hearts, positive mindsets and constructive thoughts to co operate with KFDS through friendly talk and concrete action plan. Surely, this award can be a big motivation and encouragement for the teachers to contribute their highest performance at the school. As teachers are motivated, spontaneously or naturally students can be motivated. As students are motivated, ordinary students can become extraordinary or best students in all aspects. Therefore, before to identify the best students, best teachers must be identified, appreciated and recognized. In that sense, KFDS is extremely involved in a wonderful mission with a community spirit, social responsibility and sense of charity to promote quality education for our young brothers and sisters. Moreover, school is not a place to provide some job opportunities for handful number of people from our community particularly Chinnathurai and Thoothoor. Whereas it is a strongest instrument to construct a highly knowledge-based, well secured and self-dependent a MUKKUVA community to be a Model community for others. So, I humbly request my fellow community members as well as our community based organizations that, please give your attention and stretch out your helping hands for the success of this most valuable mission along with KFDS.

Policy on visitor comments...
Thoothoor.com visitors can post comments on delegate messages, articles, etc. Such comments are individual's personal view or feedback on that subject, and hence they need not be true or correct.
While adding a comment, please use only presentable words. Also do use your own name. If you want to hide your identity, you can use Guest as your name. Never use personally abusing words in the comments.
Visitor comments are reviewed by Delegate Administrators to verify its acceptableness in general.
Visitor comments are not the the view of Thoothoor.com. If you find any problematic comment, please report them to us immediately with specific details. We will act on such concerns in a timely manner.
For Thoothoor.com Terms of Usage, please check the 'Helps' page.


St.Thomas Community Hall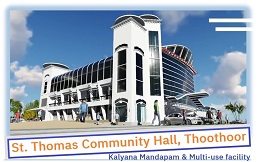 Parishes in Thoothoor Forane



Our Location Map