Delegate Message
Netaji FC wins Adhyayana Trophy hosted at coimbatore.

Back

-



Last Updated @ 14-10-2015:16.44.23(IST)

Netaji football club won the winner title of Adhyayana Trophy 5's Football Tournament conducted by Adhyayana International public school coimbatore on 12th Oct 2015. Adhyayana Trophy is one of the best football tournament in coimbatore region and many famous teams from kerala and Tamilnadu state take part of this tournament. In the final match, Thoothoor Netaji FC defeated Ernakulam Kerala FC by 5-3 (In tie breaker) to win the winner title. Netaji team entered the final after defeated Orutti FC Tanjavore by 1-0 in the Quarterfinal and defeated Rathinam FC Coimbatore by 1-0 in the Semifinal match. Netaji team player Mr.Beautin selected as the player of the tournament award. Please visit the team with Winners Cup photo in the below URL-1.

URL-1: http://www.thoothoor.com/v5/ViewAlbum.asp?album=mi .....

Rate this message!


Visitor Comment is DISABLED for this

The reason could be one of the following

This owner(s) do not want to yield any visitor comment.
The comments for this may be collected in a different section or forum
This does not require any further visitor comments.




Comment/Feedback on this Delegate Message

[25-07-2018@16.30.39(IST)]
I want to know if there'll be any trials for this team, as I am keen on playing for a good club in Chennai.

[17-11-2015:22.54.48(IST)]
Congratulations for the teem members of Nataji.
I too am proud of my place. May God bless you still more. Our Thoothoor should grow higher in every aspect.

[15-10-2015:23.25.11(IST)]
Well done!The budding footballers can learn fruitful lessons from Netaji FC so that they can be fit enough to meet future challenges.

Policy on visitor comments...
Thoothoor.com visitors can post comments on delegate messages, articles, etc. Such comments are individual's personal view or feedback on that subject, and hence they need not be true or correct.
While adding a comment, please use only presentable words. Also do use your own name. If you want to hide your identity, you can use Guest as your name. Never use personally abusing words in the comments.
Visitor comments are reviewed by Delegate Administrators to verify its acceptableness in general.
Visitor comments are not the the view of Thoothoor.com. If you find any problematic comment, please report them to us immediately with specific details. We will act on such concerns in a timely manner.
For Thoothoor.com Terms of Usage, please check the 'Helps' page.


St.Thomas Community Hall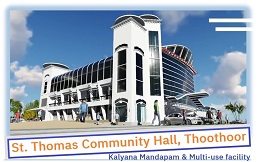 Parishes in Thoothoor Forane



Our Location Map