Delegate Message
KFDS General Body Meeting Report

Back

-


Added @ 28-7-2015:8.18.58(IST)

The General Body Meeting of Kaniyam Fishermen Development Society (KFDS) is held on 22nd May 2015 at the residence of Mr. Clement and the meeting is presided over by KFDS president Mr. Antony Xavier. Many financial helps were approved in the meeting and also certain decisions have been taken to strengthen KFDS.

Apart from the expences mentioned in the attached report, another help of Rs.7000 given to a poor student. Thus the total help extended is Rs.90000 (83000+7000).

Please visit the below link (URL-1) for the full report of the meeting. Visit URL-2 to know more about KFDS.

URL-1: http://www.thoothoor.com/v5/ViewAlbum.asp?album=kfds25072015
URL-2: http://www.thoothoor.com/v5/home_kfds.asp

| | | |
| --- | --- | --- |
| Rate this message! | | |

Comment/Feedback on this Delegate Message

[5-8-2015:19.35.33(IST)]
Regarding the award for one best performing teacher, this award was declared in the KFDS meeting held on 25th Dec 2014 and it was decided to honour one best performing teacher from the then next school year onwards. That means from the school year 2015-2016 which is the current school year. So the award will be given from this year onwards. Please visit the following Meeting Report to know more details of this award. Thank you.
http://www.thoothoor.com/v5/ViewAlbumV2.asp?album=misc&pic=KFDS_Dec2014_Meeting_Report.jpg

[28-7-2015:13.24.9(IST)]
Good work. What about the best teacher award announced earlier?

Policy on visitor comments...
Thoothoor.com visitors can post comments on delegate messages, articles, etc. Such comments are individual's personal view or feedback on that subject, and hence they need not be true or correct.
While adding a comment, please use only presentable words. Also do use your own name. If you want to hide your identity, you can use Guest as your name. Never use personally abusing words in the comments.
Visitor comments are reviewed by Delegate Administrators to verify its acceptableness in general.
Visitor comments are not the the view of Thoothoor.com. If you find any problematic comment, please report them to us immediately with specific details. We will act on such concerns in a timely manner.
For Thoothoor.com Terms of Usage, please check the 'Helps' page.


St.Thomas Community Hall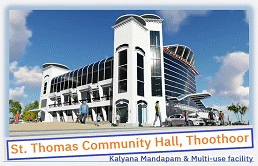 Parishes in Thoothoor Forane


Our Location Map