Delegate Message
NLT Invites all Football Fans to 23rd One Day Football Tournament

Back

-


Added @ 16-4-2014:14.46.57(IST)

As the President of NLT, I cordially invite all football fans of Thoothoor and Neighbor villages to the 23rd One Day Football Tournament of Netaji Library Thoothoor which is to be held on 20th April 2014. Please consider this as a personal invitation and attend the tournament and experience the wonderful momentum of football in our area.

The teams to be participated in the tournament are FEBS Dubai, Malabar 7's, KSC Ernakulam, Nagercoil FC, Udhaya Parithiyoor, PSA Trivandrum, Tuticorin FC , St.Jame's Vaniyakudi, Vallavilai SASC, NLT Blue, NLT Yellow and Nethaji Red.

Visit the below URL for the tournament banner.

URL-1: http://www.thoothoor.com/v5/ViewAlbum.asp?album=mi .....

Rate this message!


Visitor Comment is DISABLED for this

The reason could be one of the following

This owner(s) do not want to yield any visitor comment.
The comments for this may be collected in a different section or forum
This does not require any further visitor comments.




Comment/Feedback on this Delegate Message

[19-4-2014:18.11.29(IST)]
May we know the chief guest ?
last decade chief guest was very highlighted for the tournament.

[17-4-2014:14.13.23(IST)]
appuram nalu team varum. ellorukkum chance kudukkanume. illanna adi varum. adi varakoodaathunnu fulla ooru teamaa pottu nadathalaam

[17-4-2014:8.22.4(IST)]
3 Home Teams..... konjam uruthalatha iruku.... sorry to say this.

Policy on visitor comments...
Thoothoor.com visitors can post comments on delegate messages, articles, etc. Such comments are individual's personal view or feedback on that subject, and hence they need not be true or correct.
While adding a comment, please use only presentable words. Also do use your own name. If you want to hide your identity, you can use Guest as your name. Never use personally abusing words in the comments.
Visitor comments are reviewed by Delegate Administrators to verify its acceptableness in general.
Visitor comments are not the the view of Thoothoor.com. If you find any problematic comment, please report them to us immediately with specific details. We will act on such concerns in a timely manner.
For Thoothoor.com Terms of Usage, please check the 'Helps' page.


St.Thomas Community Hall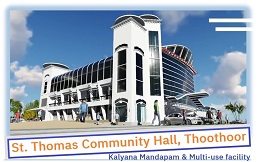 Parishes in Thoothoor Forane



Our Location Map