Delegate Message
Christmas and New Year 2014 Celebrations - Update

Back

-



Last Updated @ 18-1-2014:22.11.41(IST)

The Christmas days were celebrated peacefully in Thoothoor region. There were lot of decorations, arrangements, lightings, and musical setups found all over the region. Special preparation adorations were conducted in Churches to prepare people for Christmas celebrations, and the Christmas night masses were offered in all churches in a grand way.

On the Christmas day, people had to go to different sea shores such as Erayumanthurai Pozhi area, Vallavilai Edapadu area for taking Christmas sea bath, as sea erosion stones were put in other areas. Most people from Thoothoor, Chinnathurai, and E.P.thurai were found in Thoothoor Edapadu and Vallavilai Edapadu sea shores.

On 23rd December , Thoothoor parish conducted a christmas celebration cultural program at St.Thomas kalaiyarangam and the team from each BCC unit pariticipated in this program.The celebration went through successfully with overwhelming participation.

On 28th December , NLT conducted an annual day cultural program at St.Thomas kalaiyarangam. Earlier NLT conducted annual sports events and winners prize were distributed in this event. The program was ended with KADAL ARASAN NADAKAM acted by thoothoor people which was arranged by NLT.

Football waves were also found in our region during these Christmas days with many football tournaments across many places in our area. Some of these tournaments were played as state level tournaments with leading teams from other places, and few other tournaments were played with teams from within villages.

In Vallavilai, there was a 7 a side One Day football tournament on 26th December in which Pulluvilai Football Team won the title by defeating Paruthiyur FC in the final match. This tournament is conducted by SASC Vallavilai.

In E.P.Thurai, there was a 5 a side One Day football tournament on 28th December in which Ullor Football team won the title by defeating FASC E.P Thurai in the final match. This tournament is organised by FASC E.P.Thurai.

In Poothurai, there was a 7 a side One Day football tournament on 29th December in which SMRC Kollemcode Football team won the title by defeating SJB Poothurai in the final match. This tournament is organised by SJB Poothurai.

There were lot of marriage, first communion, baptism, and get-together functions everywhere and people were busy attending these functions. In general for those who were present in native during these days had a great time attending all celebrations with family and friends.Please visit the below link (URL-1) for few photos that are taken on 25th Dec in Thoothoor.

URL-1: http://www.thoothoor.com/v5/ViewAlbum.asp?album=xm .....

| | | |
| --- | --- | --- |
| Rate this message! | | |

Comment/Feedback on this Delegate Message

[9-1-2014:16.1.47(IST)]
all time favouritr fest with the grand manner shows ppl involvement and their dedication towards the festival..thoothoor rockzzzzzzzz

[3-1-2014:13.50.18(IST)]
Thanks for updating more information about our christmas celebration and We will process your photo update request.

[3-1-2014:8.23.50(IST)]
Dear Maria Jin,
I have witnessed a peaceful X'mas in our area. No noticeable fights or other non senses, as usually happens. Our youth were celebrating with music and dance and privately enjoying 'A' in groups on white sands. Is this a sign of our people's maturity or something else. It is good to examine such transitions.

[2-1-2014:17.27.11(IST)]
Dear Maria Jin L

Very nice information, but update some poto(Christmas Kudil,Christmas sea bath,cultural program and NLT conducted an annual day cultural program)

One more point u have missed, Mostly Thoothoor people Christmas sea bath has taking 'Thoothoor Edapadu area'


St.Thomas Community Hall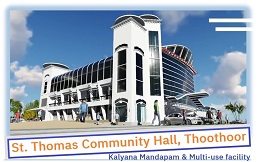 Parishes in Thoothoor Forane



Our Location Map