Delegate Message
Report on Live Webcasting of Holy Week Ceremonies and NLT Football Tournament

Back

-


Added @ 15-4-2012:15.2.52(IST)

The Holy Week ceremonies in St. Thomas Forane Church were live telecasted in Thoothoor.com website. The Maundy Thursday, Good Friday, and the Easter Night services were viewed from many part of the world. Our statistics shows that there were 287 unique visitors on Maundy Thursday, 519 unique visitors on Good Friday, and 224 unique visitors on Easter night. Even if 80% of these visitors had viewed the live webcast, the numbers are huge considering our coverage.

On the Tournament day, Thoothoor.com website had 640 unique visitors which is the second highest unique visitors Thoothoor.com had in its history. Our statistics shows that around 44.7% of all these live webcasting viewers were from Arab Countries, 29.2% were from India, 9.6% were from USA/Canada, and 16.5% from Other Countries.

The webcasting streaming of the Church services were done by Yahwehs group for free of cost. The camera expense for Maundy Thursday and Good Friday services were sponsored by Thoothoor parish, and the camera expense for Easter night service was sponsored by Mrs. Cicilyamma Thomas. The tournament day webcasting expense (streaming and camera) is sponsored by Mr. Bigi, Mr. Maria Jin, and Yahwehs Group.

Thoothoor.com thanks Fr. Sanu Ouseph and Fr. Maria Ephreme for showing interest in live webcasting. We also thank Mr. Sebash and his team from Yahwehs group for doing this webcasting via Thoothoor.com successfully. Special thanks to our core team members Mr. Maria Jin and Mr. Thadeuse for all their effort. Attached in URL-1 is a thanks note sent by Yahweh's group.

URL-1: http://www.thoothoor.com/v5/dLoads/ThankingNote_Ya .....

Rate this message!


Visitor Comment is DISABLED for this

The reason could be one of the following

This owner(s) do not want to yield any visitor comment.
The comments for this may be collected in a different section or forum
This does not require any further visitor comments.




Comment/Feedback on this Delegate Message

[14-5-2012:17.21.28(IST)]
good effort and do more.................

[17-4-2012:18.40.9(IST)]
Very good job, keep explore more and more ...

[17-4-2012:18.34.15(IST)]
Very Good Job, Let me thank all the members, who took part for the webcast of the Holy week as well as the footbll.

[16-4-2012:20.22.13(IST)]
It is another well coordinated work carried out by taking information technology & communication to the people for their togetherness and better understanding. It is amazingly a good show!

[16-4-2012:1.43.47(IST)]
Thanks to Admin, Web-team, Yahwey Group Members and everyone behind this event for there esteemed Support,Another milestone in history of Thoothoor.com It helped People away from the home a lot

[15-4-2012:18.11.44(IST)]
It has really helped our people who lives in Saudi Arabia to view the holy week ceremonies.Thanks alot for all who had worked behind to make this event a great sucess.

[15-4-2012:17.29.42(IST)]
Very good effort and once again a BIG THANKS for all who had spent their valuable time for the invaluable cause.

Policy on visitor comments...
Thoothoor.com visitors can post comments on delegate messages, articles, etc. Such comments are individual's personal view or feedback on that subject, and hence they need not be true or correct.
While adding a comment, please use only presentable words. Also do use your own name. If you want to hide your identity, you can use Guest as your name. Never use personally abusing words in the comments.
Visitor comments are reviewed by Delegate Administrators to verify its acceptableness in general.
Visitor comments are not the the view of Thoothoor.com. If you find any problematic comment, please report them to us immediately with specific details. We will act on such concerns in a timely manner.
For Thoothoor.com Terms of Usage, please check the 'Helps' page.


St.Thomas Community Hall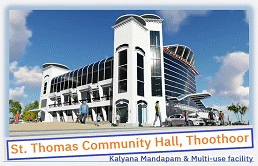 Parishes in Thoothoor Forane


Our Location Map