Delegate Message
Nethaji Library Thoothoor (NLT) resumes services - Video Attached

Back

-



Last Updated @ 28-8-2011:14.31.29(IST)

Thoothoor Nethaji Library and Sports Club (NLT) resume its functions from today 28.08.2011 (Sunday). The library is blessed and reopened by Thoothoor parish priest, Fr. Sanu Ouseph.

Earlier NLT was attacked by unidentified persons on 20th July 2011, and it remained closed for the police enquiry. This inquiry is still going on. This week, NLT members have met the police high officials and reiterated their request to take steady action against the attack.

Visit the below link (URL1) for the video of this function. URL-2 contains the photos of the attack.

URL-1: http://www.youtube.com/watch?v=5Fbzgcjwiq4
URL-2: http://www.thoothoor.com/v5/ViewAlbum.asp?album=nlt-attack-20july .....

| | | |
| --- | --- | --- |
| Rate this message! | | |

Comment/Feedback on this Delegate Message

[7-9-2011:16.51.27(IST)]
All the very best....

[7-9-2011:9.17.33(IST)]
Enna nadanththathoo athu nantagave nadanthathu
Enna nadakkirathoo athum nantagave nadakkirathu
ini Enna nadakkumoo athum nantagave nadakkum.

thirudanaai paththu thirunthaavittaal
thiruttai olikka mudiyaathu
karmam cheithavan kandippaha athan palanai anubavippaan.

[7-9-2011:6.53.17(IST)]
As per my knowledge Thoothoor has a lot of organisations, there is more than one sports club.
NLT organised football tournament to bring peace to the five villages Erayumanthurai, Poothurai, Thoothoor, Chinnathurai and E.P Thurai and it was running smoothly for many years.
I wish to empahasise that the Thoothoor team is always the players from this five villages.
Recent tournament, we witnessed some uncommon event consequent to it the attack on NLT.
Now it is better to go further for development of Thoothoor area as well as the NLT not to create trouble in Thoothoor.

[29-8-2011:13.11.51(IST)]
Good, Vazhthuhal

[29-8-2011:12.3.0(IST)]
Hearty Congratulations for All friends who played important role for resuming service,

[28-8-2011:20.20.39(IST)]
New feeds.... A Great landmark for Thoothoor.
The Black Sheep will be punished Dont worry Thoothoorians.

[28-8-2011:18.7.12(IST)]
Cloudy … thunder bold and lighting after heavy rain…


St.Thomas Community Hall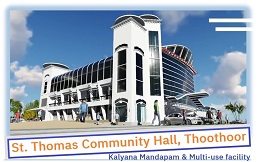 Parishes in Thoothoor Forane




Our Location Map