Delegate Message
Youth Spiritual Conference - 2010 in Thoothoor on 17.11.2010 by TFCYM

Back

-



Last Updated @ 16-11-2010:8:08:08 AM

On the occasion of Bakrid holiday (17.11.2010) a grant spiritual meeting of Jesus Youth of Thoothoor Forane gathers at St. Thomas Community Hall, Thoothoor. The meeting preparations are currently going on in full swing. This program is specially for all students of class 10 and above at Thoothoor Forane level.

The Program starts at 9.00 AM on 17.11.2010. The scheduled programs are (1) Inaugural Ceremony (The Bible Procession), (2) Lighting the lamp, (3) Ice breaking - Spiritual Dance, (4) Action songs and Jesus Youth Songs, (5) Bible Sharing on ' God's Love', (6) Testimony and Panel Sharing - I, (7) Holy Mass, (8) Lunch Break, (9) Testimony and Panel Sharing - II, (10) Bible Sharing on ' Catholic Church', (11) Adoration

Special Guests to attend this program are Rev. Fathers, Rev. Sisters and full time Jesus Youth Leaders. All are invited for this program.


| | | |
| --- | --- | --- |
| Rate this message! | | |

Comment/Feedback on this Delegate Message

[21-11-2010:7.59.45(IST)]
Congrats and prayer Rev.Fr.Andrew for your unique and valuable efforts.

[17-11-2010:10:43:08 AM]
Good initiative. If any session on 'Religious Harmony' is conducted, it would add another feather in the cap.

[17-11-2010:12:16:22 AM]
Agenda for this program looks very good and hopefully this program would be greatly benefits for all attendees.VERY GOOD INITIATIVES...CONTINUE THIS KIND OF PROGRAM -- DON'T STOP---

You are invited to . . .
join the "what-next" evolution of the website!
2 DAYS LEFT

click here


What is New in Thoothoor.COM?
Thoothoor Parish page is updated !

ENLARGE GO


St.Thomas Community Hall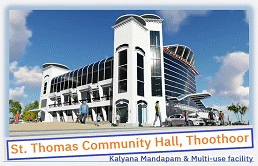 Parishes in Thoothoor Forane





Our Location Map