Delegate Message
The Report & Photos on Seminar in NLT for UGC Aspirants on 24th October 2010

Back

-



Last Updated @ 30-10-2010:1:31:10 AM

A free seminar is conducted for UGC – NET, SLET & CSIR Aspirants on 24th Oct in Nethaji Library Thoothoor. The seminar went through successfully with overwhelming participation and the attendees shown good interest to listen and clarify their doubts. A total of 62 aspirants including teachers and post graduates have attended this seminar. Eminent persons from different fields such as Dr. Vilfred, Dr. Albaris, Dr. JohnBritto provided useful guidance to the aspirants. Mr. Cleedin, Mrs.Mary, Mrs.Leela Bay have shared their experience with the attendees. The organising committee for this seminar session was Mr.Cleedin, Mr.Damin J, Mr. Leo J, Mr. Jennet Dhas, and Mr. Sherin. Most of the attendees mentioned that the seminar was very useful and they feel motivated. NLT and the organisers of the seminar expressed their happiness about the success of the seminar. URL-1 contains the photos taken during the seminar and URL-2 contains the seminar details.

URL-1: http://www.thoothoor.com/thr/ViewAlbum.asp?aG=NLT_Seminar_for_UGC .....
URL-2: http://www.thoothoor.com/dLoads/UGC_Seminar_NLT_24Oct2010_Notice. .....

Rate this message!


Visitor Comment is DISABLED for this

The reason could be one of the following

This owner(s) do not want to yield any visitor comment.
The comments for this may be collected in a different section or forum
This does not require any further visitor comments.




Comment/Feedback on this Delegate Message

[5-11-2010:10:53:28 PM]
congrats Netaji library people for doing these good activities

[1-11-2010:3:30:54 AM]
Great Work !!

Policy on visitor comments...
Thoothoor.com visitors can post comments on delegate messages, articles, etc. Such comments are individual's personal view or feedback on that subject, and hence they need not be true or correct.
While adding a comment, please use only presentable words. Also do use your own name. If you want to hide your identity, you can use Guest as your name. Never use personally abusing words in the comments.
Visitor comments are reviewed by Delegate Administrators to verify its acceptableness in general.
Visitor comments are not the the view of Thoothoor.com. If you find any problematic comment, please report them to us immediately with specific details. We will act on such concerns in a timely manner.
For Thoothoor.com Terms of Usage, please check the 'Helps' page.


St.Thomas Community Hall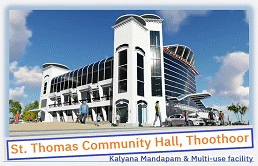 Parishes in Thoothoor Forane


Our Location Map