Delegate Message
Best Goal and Best Match in NLT 7's Soccer Tournament

Back

-



Last Updated @ 18-10-2010:8:54:55 AM

Rate this message!


Visitor Comment is DISABLED for this

The reason could be one of the following

This owner(s) do not want to yield any visitor comment.
The comments for this may be collected in a different section or forum
This does not require any further visitor comments.




Comment/Feedback on this Delegate Message

[21-1-2012:15.0.9(IST)]
Our district has always been a great foot ballin place.Only thing that we need are four good grounds (Nagercoil,Marthandam,Thuckalay,Colachel & one more in costal area) a good coach & local clubs so that we can produce great players of our own & finally sponsers.Hope this happens in the future.Hell with cricket.Thumbs up to football.Am happy that atleast one place is famous for football in our NANGIL NADU.... :-)

[21-1-2012:14.44.32(IST)]
Great work thootorians.Keep it up & let our indian brothers learn from you.That goal was superb & thanks for up loading the video.Am from marthandam.Am surprised to see our district people play the beautiful game in such a handsoe way.Thumbs up to u guyz.Keep up the good work...

[21-10-2010:5:56:26 AM]
Thanks Jin for having uploaded these nice clippings.

Policy on visitor comments...
Thoothoor.com visitors can post comments on delegate messages, articles, etc. Such comments are individual's personal view or feedback on that subject, and hence they need not be true or correct.
While adding a comment, please use only presentable words. Also do use your own name. If you want to hide your identity, you can use Guest as your name. Never use personally abusing words in the comments.
Visitor comments are reviewed by Delegate Administrators to verify its acceptableness in general.
Visitor comments are not the the view of Thoothoor.com. If you find any problematic comment, please report them to us immediately with specific details. We will act on such concerns in a timely manner.
For Thoothoor.com Terms of Usage, please check the 'Helps' page.


St.Thomas Community Hall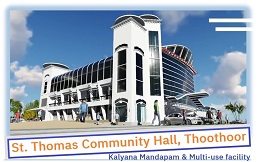 Parishes in Thoothoor Forane




Our Location Map