Delegate Message
Photos of NLT Football Tournament and Church Construction Progress

Back

-



Last Updated @ 10-4-2010:2:51:05 PM

The photos of Nethaji Library's 19th football tournament are now available. Visit URL-1 for the photos. Also, Mr. Frederic of Felixia Video Coverage Thoothoor told that he would send the video of the tournament to us within 2 weeks. We will publish the same when we get it.
     Regarding the church construction: the alter, marble flooring, painting and other interior works are progressing in fast mode. Talking to Thoothoor.com, Fr. Joseph Prasad mentioned that the church will be inaugurated on 24th June in a grant manner with many bishops and guests. Visit URL-2 for pictures of the construction status as of April 1st week.

URL-1: http://www.thoothoor.com/thr/ViewAlbum.asp?aG=NLT_Football_Photos .....
URL-2: http://www.thoothoor.com/thr/ThNewChurch.asp

Rate this message!


Visitor Comment is DISABLED for this

The reason could be one of the following

This owner(s) do not want to yield any visitor comment.
The comments for this may be collected in a different section or forum
This does not require any further visitor comments.




Comment/Feedback on this Delegate Message

[19-4-2010:12:34:10 PM]
all r very good photos. upload video also.

[12-4-2010:12:01:56 PM]
very good. you guys rock!!!

[12-4-2010:7:14:57 AM]
It was great to see the pictures.Looks pretty good all tournament snaps.

[12-4-2010:1:45:52 AM]
i do thanks for your service to our native.day by day i saw about our native details through thoothoor.com.so i thanks for u.and your work.

[11-4-2010:11:53:02 AM]
Church photos are not clear. please upload clear photos.

Policy on visitor comments...
Thoothoor.com visitors can post comments on delegate messages, articles, etc. Such comments are individual's personal view or feedback on that subject, and hence they need not be true or correct.
While adding a comment, please use only presentable words. Also do use your own name. If you want to hide your identity, you can use Guest as your name. Never use personally abusing words in the comments.
Visitor comments are reviewed by Delegate Administrators to verify its acceptableness in general.
Visitor comments are not the the view of Thoothoor.com. If you find any problematic comment, please report them to us immediately with specific details. We will act on such concerns in a timely manner.
For Thoothoor.com Terms of Usage, please check the 'Helps' page.


St.Thomas Community Hall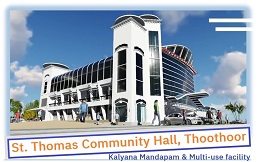 Parishes in Thoothoor Forane




Our Location Map