ALBUM: KFDS General Body Meeting held on 22-5-2015 at Thoothoor
General Body Meeting of Kaniyam Fishermen Development Society (KFDS) is held on 22nd May 2015 at the residence of Mr. Clement and the meeting is presided over by KFDS president Mr. Antony Xavier. The meeting report is presented here for public view.

Displaying... All Photos in this Album


What is New in Thoothoor.COM?

St.Thomas Community Hall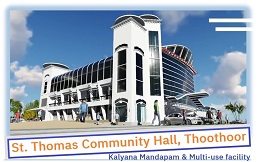 Parishes in Thoothoor Forane




Our Location Map