Bulletin Board . . . . . ?

Mr. Vincent Viapari (83) from Thoothoor passed away
-

[Added @ 06-01-2022@11.04.52(IST)-Edited @ 06-01-2022@11.54.05(IST)]
Mr. T. Vincent from Thoothoor (widely known as Vincent Viapari, aged 83) passed away on 05-01-2022. He was ailing with age-related health issues for a long and died on 5th Jan 2021 at his home. Vincent Viapari was one among the few successful early-time fish merchants in the Thoothoor region who were instrumental in yielding good prices for our fishermen.

The funeral services will be held at 4 PM on 06-01-2022 at St. Thomas Forane Church Thoothoor. The remembrance holy mass will be held on 10-01-2021.

URL-1: https://www.thoothoor.com/v5/ViewAlbum.asp?album=deaths&pic=VincentViapari. .....

Thank you all . . . for your suggestions on the "what-next" evolution of the website!

WaTCH THiS SPaCe!


What is New in Thoothoor.COM?
Thoothoor Parish page is updated !

ENLARGE GO


St.Thomas Community Hall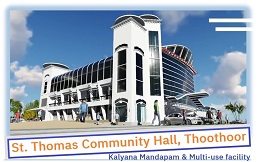 Parishes in Thoothoor Forane


Our Location Map