Bulletin Board . . . . . ?

Wilson sir from Thoothoor St. Jude's College passed away
-

[Added @ 29-05-2021@22.13.38(IST)-]
Dr. R. Wilson, long served retired English professor at St. Jude's College passed away due to Covid19. He caught with covid19 infection a few days before while he also has been fighting another chronic disease for many years. On 28-05-2021, he died due to the Covid infection.

Though he was retired, he has been continuing as a self-finance professor for post-graduate courses in the same college.


Thank you all . . . for your suggestions on the "what-next" evolution of the website!

WaTCH THiS SPaCe!


What is New in Thoothoor.COM?
Thoothoor Parish page is updated !

ENLARGE GO


St.Thomas Community Hall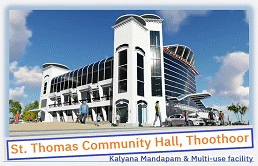 Parishes in Thoothoor Forane

Our Location Map