Bulletin Board . . . . . ?

Mrs. Lourdumary from Thoothoor passed away
-

[Added @ 18-03-2021@23.07.45(IST)-]
Mrs. Lourdumary Joris from Thoothoor, aged 87, passed away on 17-03-2021 due to age related illness. She is mother of Fr. Anto Joris, Sr. Nirmala Joris, Mrs. Jimsy teacher, Mr.s Ruby, and Mr. Joris Antony Xavier.

The funeral was held at 4 PM on 18-03-2021 at St. Thomas Forane Church Thoothoor. The 8th day remembrance mass will be held on 24th March 2021 at 4 PM.



What is New in Thoothoor.COM?

St.Thomas Community Hall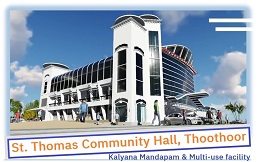 Parishes in Thoothoor Forane



Our Location Map