Bulletin Board . . . . . ?

Mr. Franko from Chinnathurai passed away
-

[Added @ 31-10-2020@15.11.28(IST)-]
Mr. Michael Nayakam (widely known as Franko, age 70) from Chinnathurai passed away in the morning hours on 31-10-2020. His health condition suddenly deteriorated yesterday and was taken to hospital in the early morning, where his condition was declared as critical and he died within a few hours. The funeral mass will be held at St. Jude's Church Chinnathurai on 01-11-2020 at 3 PM.

Mr. Franko was a hardcore NLT well-wisher and his sports commentary during NLT sports events during the earlier times were memorable.



St.Thomas Community Hall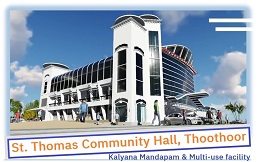 Parishes in Thoothoor Forane





Our Location Map