Bulletin Board . . . . . ?

Vallavilai Saju Viyapari passed away
-

[Added @ 02-08-2020@22.30.05(IST)-]
Well known fish merchant from Vallavilai, Mr. Saju (widely known as Vallavilai Saju Viyapari) passed away yesterday, 01-07-2020. The funeral ceremony was held at St. Mary's Church Vallavilai today.

Mr. Saju was one among very few merchants who had explored and enabled wide markets for our fishes, which eventually brought positive changes in our region in terms of yielding income from sea catches. He has employed more than 50 people in his fish company alone. In earlier days, he had helped NLT for tournaments.



What is New in Thoothoor.COM?

St.Thomas Community Hall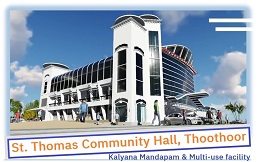 Parishes in Thoothoor Forane


Our Location Map