Bulletin Board . . . . . ?

Fisherman from Thoothoor died in sea while swimming back to shore
-

[Added @ 25-05-2020@17.56.02(IST)-]
Mr. Josepath (56) from Thoothoor died in Thoothoor Sea while returning to shore from the country boat (vallam) by swimming. Josepath along with 2 others went for fishing in the early morning, and returned at around 9 AM. When their vallam neared Thoothoor shore, two of them including Josepath jumped to the sea to swim back to the shore, as the vallam is supposed to go to the harbour for anchoring. He died miserably while swimming.

People in the shore saw this and attempted to rescue but could only recover the body. The recovered body is sent for post-mortem.

URL-1: https://www.maalaimalar.com/news/district/2020/05/26215225/1554240/fisherma .....

Thank you all . . . for your suggestions on the "what-next" evolution of the website!

WaTCH THiS SPaCe!


What is New in Thoothoor.COM?
Thoothoor Parish page is updated !

ENLARGE GO


St.Thomas Community Hall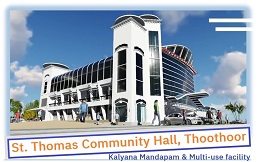 Parishes in Thoothoor Forane





Our Location Map