Bulletin Board . . . . . ?

Two persons died in Thoothoor on 19-02-2020
-

[Added @ 19-02-2020@11.33.58(IST)-Edited @ 26-02-2020@23.55.05(IST)]
This February month 19th day, two persons died due to some diseases.

Mr. Jayaraj (40), youngest son of Mr. Vincent (Vincent Viapaari) residing at main road - old library street, died at around 3 AM on 19-02-2020. Jayaraj was under treatment for liver related ailment. He vomited blood in the night and collapsed to death at his residence. His funeral ceremony will be on 20th Febuary, 2020 (Thursday) at 4.00 PM at St.Thomas Forane Church, Thoothoor.

Mrs. Amurthamma (77) wife of late Mr. Kilimas (widely known as Vellam) residing at Thoothoor bus stand junction passed away on 19-02-2020 due to the old age related disease.Her funeral mass will be on 20-02-2020 at 10.00 AM at St.Thomas Forane Church ,Thoothoor .



What is New in Thoothoor.COM?

St.Thomas Community Hall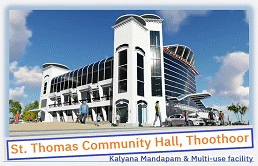 Parishes in Thoothoor Forane




Our Location Map